Lynne Haraway
By: - Nov 02, 2022
Zack Moran
By: - Nov 02, 2022
Huy Dang
By: - Nov 02, 2022
Mike Ortega
By: - Nov 02, 2022
SCGA Swing Tip: Slice No More
By: - Jun 02, 2022
Opposition to Assembly Bill 1910
By: - Apr 20, 2022
SCGA Swing Tip: One-Piece Takeaway to Start the Swing
By: - Apr 18, 2022
CGCOA Golf is Good Ambassador Program
By: - Mar 17, 2021
FORE - Public Affairs
By: - Mar 16, 2021
SCGA Swing Tip: Leapfrog Chipping Drill
By: - Apr 06, 2020
SCGA Rules Crew: Rule 13.1c "Messy Green"
By: - Feb 24, 2020
Bob Thomas Communications Internship
By: - Feb 10, 2020
SCGA Swing Tip: Swing Rotation
By: - May 07, 2018
2023 California Amateur Cup Matches
By: - Dec 01, 2017
SCGA Swing Tip: Hitting Downhill Shots
By: - Aug 29, 2017
Hollywood Swings and Misses - Happy Gilmore
By: - Apr 17, 2017
California Senior Amateur Championship
By: - Nov 01, 2016
SCGA Swing Tip - Increasing Club Head Speed
By: - Oct 01, 2013
Live Scoring
By: - Jun 30, 2013
Kevin Heaney
By: - Jun 28, 2013
HALFTIME HAS ARRIVED IN SACRAMENTO
By: - Jun 06, 2023
Feinblatt
By: - Jun 06, 2023
Golf's Great Night in Duarte
By: - Jun 05, 2023
Golf's Great Night in Duarte
By: - Jun 05, 2023
How To Offer Free Trials to Prospective Club Members
By: - Jun 04, 2023
Kirimoto
By: - Jun 03, 2023
Tomasulo
By: - Jun 02, 2023
U.S. Open Final Qualifying
By: - May 31, 2023
Kyle Newell
By: - May 30, 2023
U.S Women's Open Qualifying
By: - May 29, 2023
Donahue
By: - May 28, 2023
Pazanowski
By: - May 27, 2023
Picardi
By: - May 24, 2023
SCGA Swing Tip: Identify Targets For Better Chipping
By: - May 23, 2023
SCGA Swing Tip: Align to a Target for More Consistent Shotmaking
By: - May 23, 2023
SCGA Swing Tip: Ideal Putting Tempo
By: - May 23, 2023
SCGA Swing Tip: Creating Feel with Lag Putts
By: - May 23, 2023
SCGA Swing Tip: Higher & Softer Chip Shots
By: - May 23, 2023
SCGA Swing Tip: Be Courageous with Short Putts
By: - May 23, 2023
SCGA Swing Tip: Get Out of Bunkers Every Time
By: - May 23, 2023
SCGA Swing Tip: Leaving the World a Better Place
By: - May 23, 2023
SCGA Swing Tip: Knuckles Down to Straighten Shots
By: - May 23, 2023
SCGA Swing Tip: Reduce Sway and Increase Turn for Consistent Shots
By: - May 23, 2023
SCGA Swing Tip: Don't Get Stuck
By: - May 23, 2023
SCGA Swing Tip: Attentive Putting
By: - May 23, 2023
SCGA Swing Tip: Clip the Tee for More Driver Distance
By: - May 23, 2023
SCGA Swing Tip: Target Visualization
By: - May 23, 2023
SCGA Swing Tip: Intentional Pre-Shot Routine
By: - May 23, 2023
Tomasulo
By: - May 23, 2023
ARIZONA, CALIFORNIA, AND NEVADA REACH AGREEMENT TO CEDE 3 MILLION ACRE FEET OF COLORADO RIVER WATER
By: - May 22, 2023
FORE Story: Michael Herrera
By: - May 22, 2023
Arrowood Premier Golf Club
By: - May 18, 2023
Griffin
By: - May 17, 2023
Latina Golfers Association to Serve as U.S. Solheim Cup Ambassadors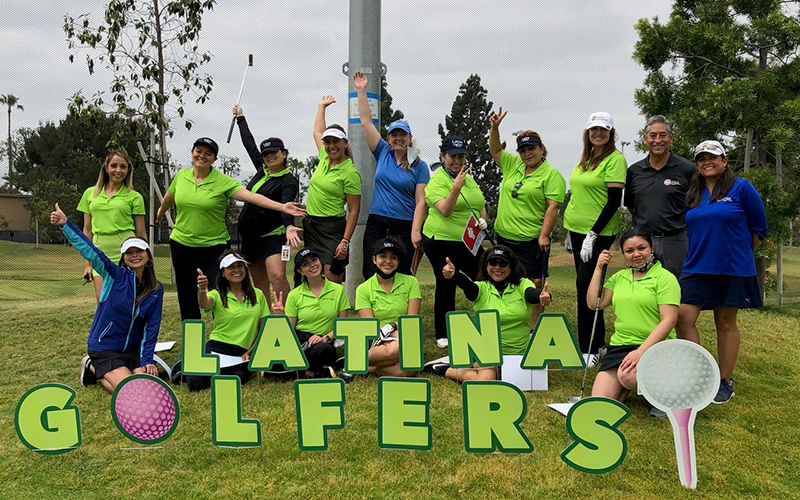 Not a day passes that I don't reflect on the amazing world golf has opened up for me. In a million years, I couldn't have dreamt that one day I would be a contributing to the golf industry by growing the game with women and the Latinx community.
In 2021, Solheim Cup Executive Director Alicia Garrido anointed the Latina Golfers Association (LGA) as the official United States ambassador when this year's championship heads to Spain. We are taking 30 Latina Golfers members to the competition in Spain this September.
"I had heard of the Latina Golfers Association and it was obvious they would be the perfect ambassadors given their cultural ties to Spain," said Garrido. "We look forward to hosting them and all the guests joining us from the United States. I can assure you; it's going to be a Solheim Cup like no other! You won't be disappointed."
Alicia and her husband, Inigio, led the campaign that brought the Solheim Cup to Spain through their company, Deporte & Business. As ambassadors, it's our job to spread the Solheim Cup gospel to golfers in the United States. Being held from Sept. 22 - 25 in the heart of Costa del Sol at Finca Cortesin Golf Club, this is one of Spain's most popular beach resort areas on the Mediterranean sea with some of the most intimate traditional city centers in the country.
It's easy to create your own unique golf & cultural vacation out of the trip. Costa del Sol ranks as a top golf destination worldwide, boasting the largest concentration of golf courses in Europe. Tickets are still available as well as hotel inventory near Finca Cortesin (email at [email protected] for more information).
The Solheim Cup in Spain is a bucket list trip for me. My golf journey began when I said yes to an invitation that changed the trajectory of my life. The invitation was a date, and within the first hour, I knew I had found the love of my life, a love that has turned into a 15-year relationship with the game of golf. I was obsessed, and I wanted more. Eighteen holes easily turned into 27, then 36.
I was the golfer who with every post prayed for a lower SCGA handicap! Before long, friends and colleagues started calling me the "Latina Golfer" and encouraged me to play in charity golf tournaments. It was a new world to me. I knew nothing about golf as I was raised on the other side of the tracks from any golf course.
I was strictly a recreational golfer, unaware of the business culture of golf. I was invited to play in foursomes and my professional and social networks were growing exponentially. Being new to Los Angeles at the time, it was clear to me that the common denominator to my growing network was golf. I was welcomed into circles that would not have been so easily accessible to me. What also became evident to me was the lack of women, especially Latinas participating in the golf outings.
I was moved to take action and on Mar. 11, 2008, I launched the Latina Golfers Association at Brookside GC with 94 Latinas in attendance; ready and anxious to take on golf. My passion for golf quickly turned into a movement to empower women by teaching them how to leverage golf as a business tool. Today, the LGA has over 3,000 members in Los Angeles County and organizes golf clinics, golf lessons, golf outings, golf networking events, golf fiestas at the driving range, golf social events, golf tournaments and golf travel.
I'm counting the days for my dream golf vacation. I'm pinching myself as I write this because, well, I'm living my best life, all because I said yes to golf all those years ago.
SCGA Champ Lilia Vu Secures First LPGA Major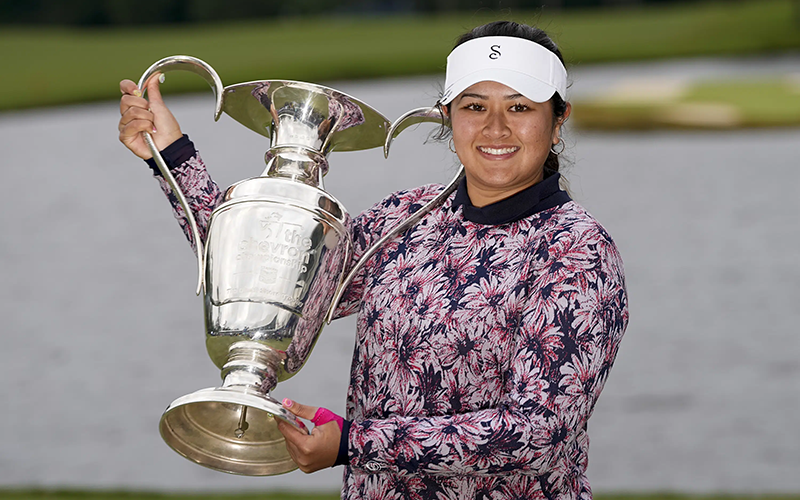 When Lilia Vu stepped up to the first tee at the JM Eagle LA Championship, she was announced as a major champion for the first time at an opening hole of a tournament.
It's an awesome distinction she'll always own, and it means a lot to her.
"It feels like the hard work paid off," Vu said. "To know I didn't really change much of my technical golf skills, it was more being in a mentally better place and allowing everything to fall into line."
Vu - a Fountain Valley High and UCLA alum - almost gave up on golf. Good thing she stuck it out. At 25 years old, Vu jumped in a frigid pond in Houston after winning the Chevron Classic in a playoff. A major breakthrough and a $765,000 winner's paycheck.
"I think it was surreal for me for that moment to actually come," Vu said. "I remember not being in the field a couple of years ago when I was going through a hard time with my golf game and watching this event on TV. Three years later, holding that trophy up is completely insane to me."
She started to struggle with her game four years ago, and then she lost her grandfather in the pandemic.
"I was so hard on myself my rookie year in 2019," Vu said. "I lost just about all the confidence I ever created. It was just a really hard time for me. I looked at golf in a bad lens. Basically, life or death when it's just golf. I'm more than that.
"I'm a person. I'm a daughter. I'm a best friend. All that stuff. Just to separate myself from a pro golfer, from my identity. That's been a really big thing for me, trying to have fun on the golf course and just enjoying my time out here."
Vu still lives in Orange County and returns home every few weeks during the golf season when she's not playing in a tournament. Recently, she returned to her home away from home at Wilshire CC, an LPGA Tour stop.
As a Bruin golfer, she played Wilshire on a regular basis." She went directly from the high of winning her first major - and second tournament this season after her first victory in Thailand - to Los Angeles. She missed the cut by one shot.
"It's a little overwhelming post major win," Vu said from Wilshire. "To be here is very comforting. There's a lot of nostalgia. It feels like home. I was here once a week with UCLA playing Wilshire Wednesdays in the morning."
No major swing changes for Vu the last couple of years, but there was a major change.
"It's all mindset, allowing it to happen. I know everybody wants to win out here," Vu said. "I think at the end of last season I wanted to win too much. I was putting so much pressure on myself at the end. I came into this year wanting to have fun and knowing I'd eventually win."
Southern California is where she honed her game as a junior golfer. She loves playing Pebble Beach - her first time was at 8 years old - and her favorite tournament was the FCG Callaway World Junior Golf Championship.
"Callaway Junior Worlds was really significant for me," Vu said. "And I played at Pebble Beach when I was 8 years old all the way to 16, 17. You'd go down there (to Torrey Pines) and play with people all over the world. It was so fun to meet people from Thailand, China, Mexico, you name it. And I just felt like that was nice that San Diego was the place to go."
Vu has an impressive résumé, which includes numerous awards like Pac 12 Freshman of the Year in 2016 and Symetra Tour Player of the Year in 2021. She also took home the 2016 SCGA Women's Amateur championship the summer before her sophomore year at UCLA.
She embraces her Southern California junior golf roots, when playing golf was a good time.
"It was really fun. I got to travel a lot. We travel way more now," Vu said. "My parents took me just about everywhere just to hope to play Division I golf. That's what happened. I went to UCLA, and now we're here."
Lilia Vu, Major winner.
Twinning is Winning: 6 Tips When Dressing for Partner Golf Events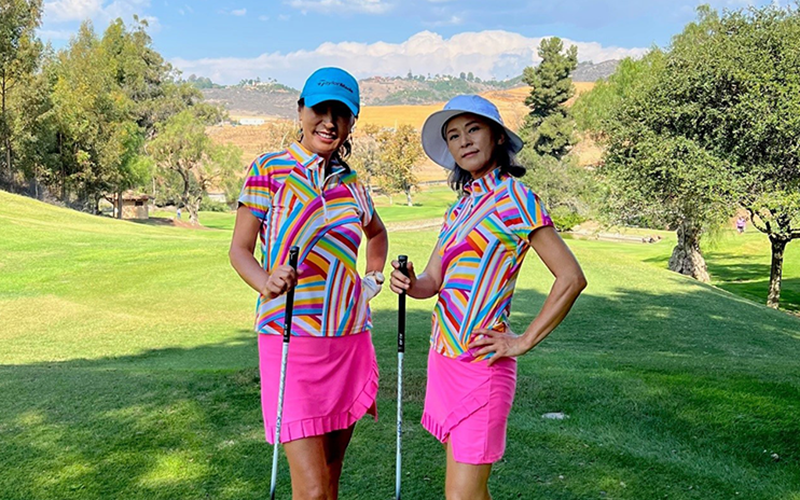 Partner golf tournaments are fun for several reasons. They are competitive events enhanced by food, gifts, prizes and for me, special girlfriend time. Being a golf fashionista, the real fun for me begins well before we tee off, when I get consumed with outfit planning for me and my partner. My mantra, "twinning is winning," means no matter how we play, we are going to look and feel like a winning team.
Matching outfits create a sense of camaraderie. In golf, anything to boost morale is beneficial, and nothing is better than feeling akin with your partner and receiving compliments on team spirit. Twinning is a fantastic way to show our creativity and express our team style.
Some women want a completely cohesive look; others happily suffice with matching colors or accessories. Here are a half a dozen ideas that cover the gamut of twining choices:
If there is an event theme, then get creative with prints and patterns that fit the motif. In the recent "Orange Blossom" tournament that I played in (Pauma Valley, CA) there was a panorama of orange adorned golfers sprinkled all over the course. This was the perfect time to get vibrant. My team chose matching orange prints from TzuTzuSport.com and GolftiniWear.com. I spotted matching bright orange "McCall" pants from Anatomie.com and orange dresses from KinonaSport.com. Note: most retail and brand websites offer filtering by color.
It's fun to coordinate without being exactly "matchy-matchy" by sharing prints from the same collection but mixing tops and bottoms. Look for brands that offer deep collections of a particular color and coordinating prints. BelynKey.com, TailActivewear.com and GGBlue.com come to mind as they produce a variety of apparel with patterns and trims that are easy to coordinate. You can choose a skort in a pattern that matches your partner's top. Associated tops and bottoms can be matching solids from the same print collection. The outfit isn't exactly the same, but you are definitely a matching team.
Exclusive brands that you won't find at your big box stores offer a classy uniqueness that stands out from the field. There is nothing wrong with the offering's at large retailers, but when you shop with smaller boutique companies you can find gems that you won't see on anyone else. The unique prints of AmySport.com, the classy styling of LohlaSport.com, and the flirty offerings from CalliopeGolf.com come to mind.
Loud, proud, and edgy apparel will inspire your team's inner rebels. Look into the spirited and uncommon print offerings of Loudmouth.com, TattooGolf.com and RoyalandAwesome.com. You will stand out - I promise!
Matching accessories like hats and jewelry may be all you need to show team spirit. At the "Orange Blossom" tournament, I spotted a team with bling adorned hats found on Amazon.com and home-made "orange" dangle earrings from a local artisan shop. What a team. Another had matching G Fore.com golf caps with the clever wording "Play Nice" which fit in with the tournament's competitive spirit. Check out GhostGolf.com for other attitude hats like "Play Bad Fast" and "Out of Office."
Matching custom t-shirts are over the top clever. Produce your own sayings to match the tournament theme or look for clever offerings on Etsy.com. Screen prints or appliques do the trick nicely. "Queens of the Greens" or "Let's Par Tee" and "Talk Birdie to Me" are a few that I have seen that have caught my attention. You may need to layer your casual t-shirt over a collared shirt to abide by golf club's "collared shirt" rules.
Wearing team outfits in golf events is much more than simply identifying partners on the course. Creating a sense of unity and a positive atmosphere during competition is a big part of it. For this golf fashionista, creating a twinning outfit is one of the more creative and fun aspects of golf competition. I always feel like a winner when it comes to team spirit!
Teraoka
By: - May 13, 2023
Teraoka
By: - May 13, 2023
GOLF'S GREAT NIGHT IN DUARTE
By: - May 11, 2023
NATIONAL GOLF DAY
By: - May 11, 2023
SACRAMENTO WATCH
By: - May 11, 2023
Herrera
By: - May 10, 2023
Walker
By: - May 08, 2023
Schoen
By: - May 08, 2023
Water Updates
By: - May 07, 2023
George Tournament Withdrawl
By: - May 04, 2023
George Tournament Withdrawl
By: - May 03, 2023
Belanger
By: - May 03, 2023
Lee-Gentile
By: - May 02, 2023
Belanger
By: - May 02, 2023
FORE Youth
By: - May 01, 2023
Hazelton
By: - Apr 30, 2023
Kridel
By: - Apr 29, 2023
Johnson
By: - Apr 29, 2023
Anderson
By: - Apr 27, 2023
Wednesday Walkers Golf (WWG)
By: - Apr 25, 2023
THE ELEPHANT IN THE ROOM
By: - Apr 24, 2023
Alexis Viana
By: - Apr 23, 2023
Hannah Ko
By: - Apr 23, 2023
Gadbois
By: - Apr 23, 2023
Gadbois
By: - Apr 23, 2023
Erdman
By: - Apr 23, 2023
Gadbois
By: - Apr 23, 2023
Julia Pine's Unexpected Career in Golf Has Come Full Circle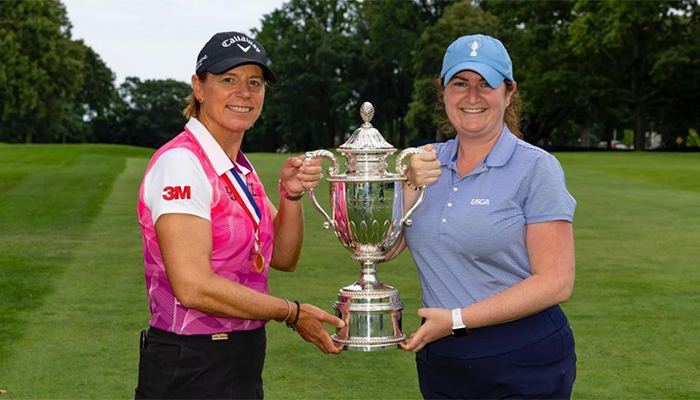 When Julia Pine returns to Los Angeles in June, her career will come full circle.
Pine worked in Los Angeles for seven years with the Southern California Golf Association (SCGA), a job she cherished but hadn't dreamed of because she never played golf.
But life takes the most interesting turns, and the 34-year-old Pine, who is in her sixth year working for the United States Golf Association (USGA), will be on site for the 2023 U.S. Open at The Los Angeles Country Club (LACC).
"It's awesome. We announce championships very far out, so when I first took the job, this one was certainly circled on my calendar," Pine said. "To be in L.A., which is still a second home, I have a lot of friends and ex-colleagues there, so to be able to be in a familiar area is great. L.A. is still a city I love, so to bring our crown jewel there is personally very satisfactory for me."
Both of her worlds are colliding. As the USGA's director of championship communications, Pine will be heavily involved at the U.S. Open, which is returning to Los Angeles for the first time in 75 years. Embracing the excitement around this historic championship, the SCGA collaborated with the USGA and LACC to create the FORE Youth: 2023 U.S. Open Community Legacy, an initiative that benefits the future of junior golf in Southern California.
Pine has always wanted to work in sports ever since her graduation from Loyola-Marymount University in 2010, but she'd always imagined team sports like basketball or baseball. She had no golf background, but applied for an internship at the SCGA. While she didn't get that internship, Frank Moore, the SCGA's director of communications & marketing, later hired her for a full-time position because she said he liked her passion for sports; knew it would translate and she could learn the golf stuff. Moore is still a mentor to this day.
"It's pretty rare in the world of golf. I'd never played golf and don't come from a golf family," Pine said.
During her time as the SCGA's assistant director of communications, one of Pine's defining moments was her creation of the FORE Her digital newsletter.
"One of the things I'm most proud of at the SCGA is FORE Her. I was editor of FORE Magazine and we had a lot of women's golf content but there were some things I felt females in golf were talking about that weren't appropriate for FORE Magazine," Pine said.
"I ended up writing a piece on this, females picking a stall at the end of the driving range because men will come by and say 'I have some tips to show you.' Some of the conversations like that felt like it had to remain in a safe space of women talking. I thought, this could live in a digital world where women could write about things and read about things that felt very female and it's tied back to their experience in golf."
And now, Pine has her second job in the industry with the USGA. In 2018, she moved to the USGA's headquarters in New Jersey. She'll be on the move again this year after an opportunity to transfer to a satellite office at Pinehurst recently opened.
"I'd kind of fallen in love with Pinehurst over the last few years," Pine said. "It's changed a lot. In my five years at the USGA, I've probably taken 20 or so trips there. The weather is a little nicer. I'm really excited about it."
Though she took some lessons in L.A. and started playing par-3 courses, playing golf hasn't appealed to Pine, but working in golf has been the best unexpected career move.
"It's a big part of my life," Pine said. "It's my job but also a passion in terms of being a fan and connecting to the game. I have not caught the golf bug. I think I've gotten to a point where I'm OK with that. I felt when I was at the SCGA that I was missing something. I'd give someone on my team an opportunity to play in a media day and it was the greatest thing of their life to be able to play Riviera. And I was thinking, I want that. But I work so many hours at golf courses it was kind of the last place I wanted to go in my free time."
Make no mistake. Pine loves golf and all the stories the sport creates.
"My passion is to grow the women's game," Pine said. "I'm in this job because I want to advance women's sports, ultimately. For me, the U.S. Women's Open is where I put as much attention as I do the U.S. Open every year. I'm really proud to be with an organization that feels the same way."
How To Overcome Feelings of Intimidation on the Golf Course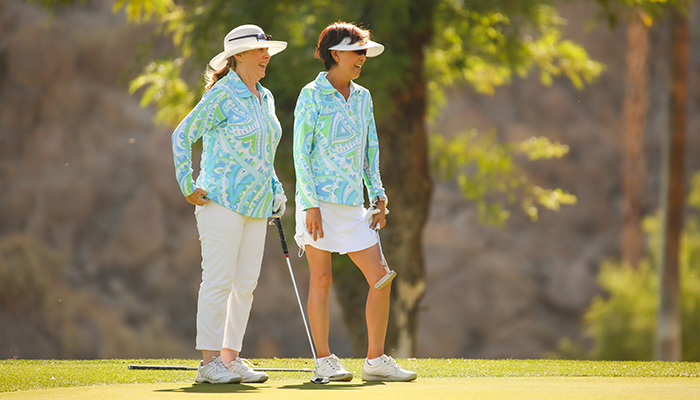 Regardless of how long you've been playing or what your average scores are, most players have felt stress, performance anxiety and even feelings of intimidation while playing golf. Sports psychologist Dr. Shannon Reece says we can all learn how to play each shot more purposefully.
"There are certain moments and circumstances that can trigger that fear response inside of you, where you feel like you're losing control of your game," said Dr. Reece.
Dr. Reece studied under renowned sports psychologist, Dr. Bob Rotella, and has been teaching golfers how to use the power of their minds to play better for over two decades.
She says there are three main types of intimidation in golf: the intimidation we create for ourselves, intimidation from other players and intimidation from the actual golf course. Her tips for each of them will help you take back control of your thoughts, whether you're playing a casual round with friends or grinding over shots in a competition.
Intimidation We Create for Ourselves
We often are thinking about too many things at once, which Dr. Reece says can really backfire. "If your mind is cluttered, your swing is going to be cluttered with unnecessary elements. Having all those thoughts wakes up our conscious mind too much."
Dr. Reece suggests the moment you begin to feel that you're struggling, take a deep breath, step back, and ask yourself, "'What can I do in this moment to simplify my focus?' See the shot, feel the shot, lock on to the target and go."
Intimidation From Other Players
Avoid the temptation of comparison thinking, Dr. Reece says. "Recognize that everyone starts at the same place. We aren't looking to get to a point where we are 'done' - golf is a journey."
She says to think about how far you yourself have come, and get excited about your own progress. Don't fall into the trap of worrying about how someone else is playing, which should have no bearing on your own game.
When talking about a member/guest or member/member tournament, Dr. Reece shared, "You're getting invited to play because of who you are, not how you're playing. Your friend invited you to enjoy the experience together, and they believe you have a good game, so you should be believe it, too."
There can be a certain amount of gamesmanship during a tournament that can be heard, seen or just felt from the other players in the field. Rather than allow yourself to be intimidated by how well others are playing, or how excited they are about their own good shots, try to create your own zone. Focus on communicating with your partner, remark or high five for good shots, and support when a shot is missed by saying "good try" or "oh, so close." These principles can apply to all rounds of golf, competitive or not.
Intimidation From the Golf Course
What is course intimidation? Dr. Reece says a good example is that hole you call your "blow-up hole." It's the hole with water, bunkers, narrow fairways or low hanging trees. You walk up to the tee and all you can think about are the architectural features that your ball has landed in so many times before.
Rather than thinking of where you've been before, Dr. Reece says you can train your mind to focus on where you actually want to go. Focus on a smart, makable target that you know you can hit, rather than let those thoughts about the water or bunkers sink in. Remember that you shouldn't necessarily be going for the flag every time - laying up is a strategic decision which should be a part of your toolkit on the course.
Learning From Your Mistakes
There isn't a golfer alive who hasn't made mistakes they knew they could have avoided. Mistakes are a part of the game, and they can be a valuable learning tool if you use them as such.
When you make a mistake, step back, make an objective observation about what you can learn from that mistake to make you better, stronger and smarter going forward. You shouldn't dwell on it in that moment, but you can make a mental note to revisit the situation after the round. Think about what you did and why you chose that club or target and evaluate if you might make another choice in a future round.
Dr. Reece firmly believes that mistakes are some of the best avenues for you to become a better player, and she shared her favorite Nelson Mandel quote, "I never lose, I either win or learn."
"It's a joy to enhance the experience of the amateur golfer, and make the game that much easier and more fun to play by teaching them simple shifts in how they think and approach the game, which can have a dramatic impact on their scores."
I'm hosting an Advanced Rules Clinic on May 15 at Arrowhead GC. Join me on the course for an interactive and fun way to learn the Rules of Golf you've ever experienced.
Learn more about Dr. Shannon Reece here.