Tom Reul
By: - Oct 29, 2023
Lynne Haraway
By: - Oct 29, 2023
Zack Moran
By: - Oct 29, 2023
Huy Dang
By: - Oct 29, 2023
SCGA Swing Tip: Slice No More
By: - Jun 02, 2022
Opposition to Assembly Bill 1910
By: - Apr 20, 2022
SCGA Swing Tip: One-Piece Takeaway to Start the Swing
By: - Apr 18, 2022
CGCOA Golf is Good Ambassador Program
By: - Mar 17, 2021
FORE - Public Affairs
By: - Mar 16, 2021
SCGA Swing Tip: Leapfrog Chipping Drill
By: - Apr 06, 2020
SCGA Rules Crew: Rule 13.1c "Messy Green"
By: - Feb 24, 2020
Bob Thomas Communications Internship
By: - Feb 10, 2020
SCGA Swing Tip: Swing Rotation
By: - May 07, 2018
2023 California Amateur Cup Matches
By: - Dec 01, 2017
SCGA Swing Tip: Hitting Downhill Shots
By: - Aug 29, 2017
Hollywood Swings and Misses - Happy Gilmore
By: - Apr 17, 2017
California Senior Amateur Championship
By: - Nov 01, 2016
SCGA Swing Tip - Increasing Club Head Speed
By: - Oct 01, 2013
Live Scoring
By: - Jun 30, 2013
Kevin Heaney
By: - Jun 28, 2013
Grazier
By: - Dec 07, 2023
Urtiaga
By: - Dec 06, 2023
Piscopo
By: - Dec 05, 2023
Draft Sepulveda Basin Vision Plan Contains 54 Holes of Golf
By: - Dec 02, 2023
Membership Renewal: What to Know (Private Clubs)
By: - Dec 02, 2023
Vallandingham
By: - Nov 28, 2023
SPEAKER RIVAS MAKES HIS APPOINTMENTS
By: - Nov 27, 2023
Coombs
By: - Nov 22, 2023
Coombs
By: - Nov 22, 2023
Brissey
By: - Nov 21, 2023
2023 Holiday Golf Gift Guide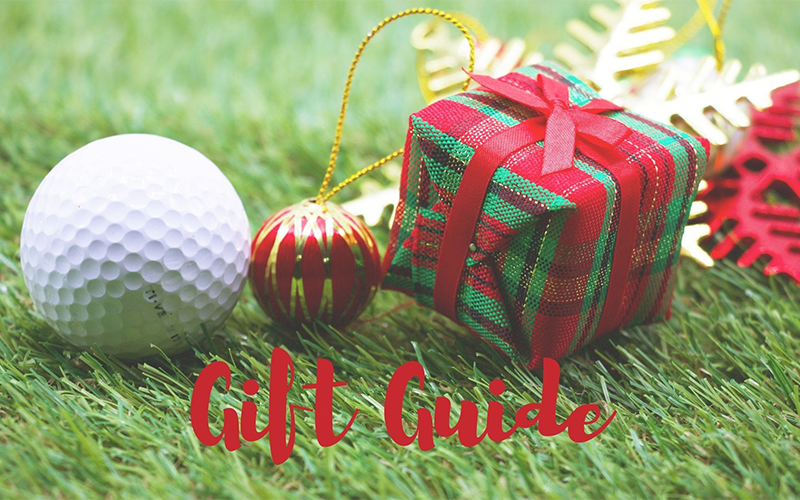 The reminder came during my morning drive last week. The DJ on my satellite radio station announced the holiday channel and just like that, Jingle Bells and Rudolph are back. With Halloween behind us we have only seven weeks of gift buying which flies by faster than a 300-yard drive. If I start now, I get the best selection and often better prices. I'm all in for Black Friday and Cyber Monday deals. Most importantly, I have more time to think about what my besties are going to truly appreciate.
This is my second annual Holiday Gift Buying Guide and I hope some of my ideas are helpful to you. Being in the retail golf industry, I am on constant watch for things that my customers will enjoy, and in all price ranges. I'll give you lots of choices under $25. A few of the items on this list are repeated from last year because they are remarkably popular. Most are new to my annual guide.
Martini Tees: Tee it up quick and easy. Those that use these tees, love them. They come in a pack of five on Amazon. With a wider surface area for the ball to sit on, your ball won't move until impact.
The Golfer's Game Book: This is a manual of golf games and side bets. I thought I was knowledgeable about course games until my group wanted to play "Wolf." As a veteran golfer, I don't like to be clueless about any games….so I keep this reference book handy. This one is written by a woman which for me, is appealing. All game-loving golfers should have one.
Insulated Lunch Bag: These golf themed bags are made of neoprene to keep food hot or cold. The golf themed prints are fun to take your lunch or snacks to the course. A zipper closure keeps contents from falling into your golf cart and it's water resistant to keep contents dry. Dimensions: 11″ long x 12″ tall x 5.5″ deep
Gotta Glove It Wristlet with Eileen's Gift Tip: Wristlets are perfect for carrying your life essentials like cash, keys, and cards with ease. But here's my great gift giving tip for these cute bags: Stuff it with emergency staples such as advil, bandaids, bug spray, anti-itch cream, etc. Every girl should have one in her bag! Glove It wristlets are available in signature prints that brighten your mood and show off some fun personality. Nylon construction Removable wristlet strap . 8" x 4"
Play Nine Card Game: I hope I find this under my holiday tree because my fun-loving friend Joanne says it's a blast to play. It's golf-themed card game that is perfect for a casual game night. The mix of strategy and chance makes for an ever-changing game that never gets boring. It comes with easy to learn instructions.
Price: $17.99

Buy: Dick's Sporting Goods
Birdie Juice Tube Flask with leather outer and four attached shot cups. Celebrate her birdies in style with this unique, larger sized 12-oz tube shaped flask. "Birdie Juice" embossed on the side. Fill it with her favorite libation and put a bow on it!
Re-chargeable hand warmers: A swing is nearly impossible when your hands are cold. Keep them warm with battery heated hand warmers. The OCOOPA rechargeable portable hand warmers are less wasteful than disposables, charge quickly, heat up to 131 degrees and can be reused hundreds of times.
Golf Cart Seat Blanket by TUYU: More and more golfers use these blankets for the added warmth in the winter and coolness in the summer. These days there is an abundant selection to choose from online. I selected this one simply because it is the highest rated on Amazon. But poke around as well on Etsy or Ebay for a broad selection of patterns and styles. Look for a blanket that is easy to clean and wicks moisture.
Golf Marker Caddy: by Partee Girl Golf is constructed of synthetic leather and lined with velvet. The magnetic insert safely protects and stores her collection of ball markers and hat clips in a sleek holder. Never lose ball marker magnets again.
Golf Cap with Attitude: These G-4 hats are a great way to make a fun statement on the course. "Girls Golf Too" or "Fore" add a little sassiness to your game.
Daily Sport Fleece Hand Warmers: Padded hand warmers with a tab for attaching to your pushcart or keeping your hands warm on the cart ride to the course on frosty mornings. They are wind and water resistant.
The TEAM8 Golf GPS speaker combines precise distances to the front, middle and back of the greens (plus hazards intel) while doubling as a personal DJ. This is a great measuring device and has excellent sound to bring good vibes and rhythm to your game.
Amy Sport Top or Skort: When you want to gift apparel that is high quality and totally unique then check out Amy Sport. This is a popular brand for golf fashionistas looking for stand-out, couture worthy prints to sport on the fairways. They offer high tech performance fabrics with artistic flair and a great fit.
Upscale Golf Shoes: Any golf fashionista will love wearing high end golf shoes, especially if they coordinate perfectly with an outfit. To give her holiday joy, look at Royal Albatross, G-Fore or Nailed Golf (WesTees shoes) for the best selection. Pictured is one of my favorites from WesTees.
Women's Heated Golf Vest by Ororo: Lightweight, machine washable vest is water and wind resistant. A battery charge provides 10 hours of heat in both the collar and upper torso on low setting and six hours on Medium. Even Southern California gets cold in the winter!
ClubGlider Meridian: Awarded Golf Digest Editors' Choice for Travel Bags, the Meridian makes pulling a loaded golf club travel bag nearly effortless. You can pull this bag with a pinkie finger. Dense foam padding through the top of the bag protects your clubs; the leg mechanism supports the weight of your bag; and the pivoting wheels make the bag highly maneuverable.
Hopefully these ideas will help with you with this year's gift giving and bring some holiday joy to your favorite golfers. When you nail the perfect gift, it truly is more fun to give than to receive.
Golfsplaining: How to Navigate Unsolicited Advice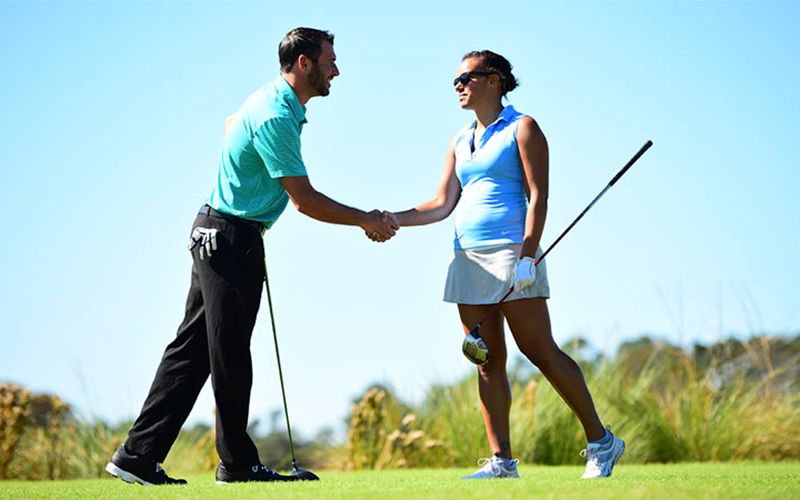 I don't need to ask if this has ever happened to you, because I have a feeling that 99% of all female golfers have had the experience of being golfsplained.
Golfsplaining occurs when one golfer who may be (or just thinks they are) a great player offers unsolicited advice to another player, assuming they need help without being asked. While the intentions behind golfsplaining may be well-meaning, it can be frustrating and demoralizing for the recipient.
Many golfers have shared stories of being on the receiving end of unsolicited advice, maybe from other golfers who assume they lack knowledge or skill.
It's happened to me dozens of times over the years, and one incident that stands out most in my memory is when I was fairly new to golf and played in a ladies' day round at my home course. I was struggling with my bunker shots that day and since it was a four-person team format, we were all rooting for and supporting each other. After I made two unsuccessful attempts to hit my ball out of a bunker, one of the ladies on our team walked over and started telling me how to hit a proper bunker shot.
"Put your weight on your left foot, bend your knees more, swing harder…" At this point I couldn't make sense of the advice because I was already so frustrated — and embarrassed.
It's hard to imagine that this player didn't realize it wasn't appropriate to insert herself into my struggle. She appeared to have no idea that her suggestions on how to hit my shot were not what I needed at that moment.
At that point, for pace-of-play, I had to pick up my ball and let my partners play on, which knocked my confidence down even further. I never told her to stop "helping," but my body language may have tipped her off that I didn't appreciate her unsolicited advice.
Over the years I've heard countless ladies complain about the golfsplaining they receive and how it makes them not want to play with new people. Complete strangers walk up to ladies on the driving range and tell them what they're "doing wrong." Men see women take their stance for their first tee shot of the round and actually stop them before hitting a drive to tell them they're "lined up wrong." So many well-intentioned people pipe up with suggestions for our swing, club selection, even whether or not to go for the green instead of lay up.
Of course every golfer's journey is unique, and what works for one person may not work for another. Unsolicited and conflicting advice can often become counterproductive, and quite confusing. If you find yourself on the receiving end of unsolicited advice, here are my best tips to prevent golfsplaining:
Know that just because this person attempts to offer swing advice, don't take that as any indication that your swing isn't good enough. Brush it off as their problem, not yours
Wear earbuds when you practice on the range. This is a great non-verbal way to indicate that you're not interested in anyone's advice
Don't ask other players about their swing during a round. Doing so may open up a door that you won't be able to close for 17 more holes
If you're in the middle of a round, resist the urge to take advice, even from a good player. Most of the people we play with are not professional coaches
Cultivate a network of like-minded golfers who respect each other's abilities and personal journeys. Play with people who understand how to support you without telling you what to do.
Lead by Example: We can all play an active role in creating a more inclusive and supportive golfing community by offering encouragement, praise and constructive feedback when asked

.

Try telling the person who's inserting themselves in your swing, "Thank you for trying to help me, but I'm actually working on my swing at the moment, and hearing new tips is confusing to me."
By setting boundaries and seeking supportive playing partners we can navigate unsolicited advice and promote a more inclusive and respectful environment out on the course.
World War II, Golf Course Design & Title IX: Geri Fiorello's Incredible Golf Journey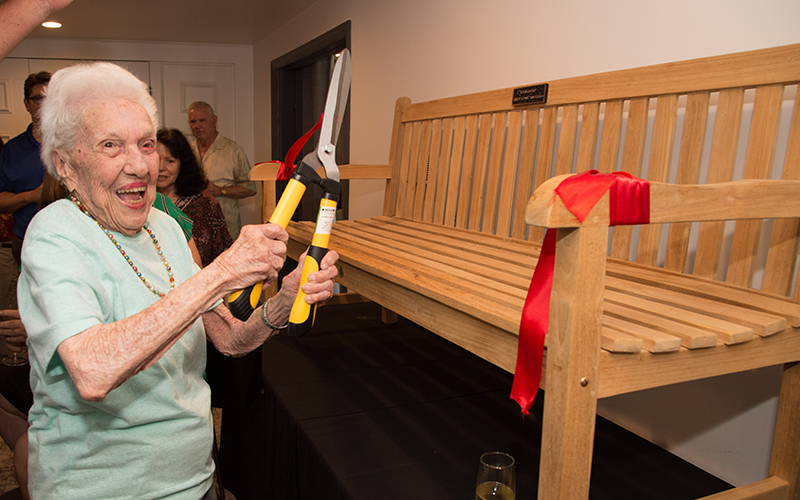 Geri Fiorello has so much to celebrate these days.
Fiorello turned 101 on Oct. 23. She had a bench dedicated to her by Woodland Hills CC (WHCC) over the summer. And, for the former Marine, it's National Veterans and Military Families Month.
Life is good.
Fiorello, a Woodland Hills resident, was a drill instructor in the Marine Corps and served in World War II and the Korean War.
"All my buddies I played softball with, so many were joining the service after the bombing (at Pearl Harbor)," said Fiorello. "They all joined. So I said, 'I'm joining too. If they can do it, I can do it.'"
Fiorello has had that can-do attitude for her entire life, doing things so many women rarely did in those days. That included playing and coaching golf.
After growing up in Detroit playing all sports with the boys, she moved out West and studied fitness, nutrition and physical education at UCLA. She also played professional baseball, and in 1961, started teaching at Pierce College, where she spent most of her career. She helped write Title IX, too.
Fiorello, who is in the junior college's Hall of Fame, arrived at Pierce 62 years ago and discovered there were only men's sports teams. So she started the women's sports programs.
"We didn't even have a gym. I did everything outside," Fiorello said. "We had the best teams in Southern California, actually. I had a lot of very good athletes. We sent several to the Olympics. I did a lot of very good stuff, and I'm very proud of it."
She coached all of the women's sports, including golf, and even designed the former 9-hole golf course there.
"I didn't try to take anything from the men," she said. "I just wanted something for the women. That was my approach. That's why I guess I was successful."
Asked if she encountered resistance, Fiorello said, "Are you kidding me? Of course. Some of the men just about blew my gasket. But I will say there were several other men there that were very good. Denny Crum, for one, was my buddy. He had been a student at Pierce and then he went to UCLA. He and I were good buddies. If I needed something I'd go talk to him. Ray Bishop, who was the football coach and men's golf coach, was another good friend. He helped me. He'd listen to me and he'd sympathize with me. There were a lot of men who listened to me and said, 'Hey, you've really got a point there.'"
She said she never got paid for coaching, just teaching, and that she never complained about that.
Fiorello was honored by WHCC this past summer, along with Betty Bowler, as longtime members who turned 100. They each have a bench outside the club.
"That was a very nice event," Fiorello said.
Golf has always been a part of Fiorello's life. She has three holes-in-one, including two at WHCC and one at Pebble Beach, her favorite course.
She's healthy and gets around with a cane or a walker. She's a strong, independent woman but does have help driving, and of course, she gets to the club to have lunch and dinner with her friends. She can no longer play golf because of balance issues, but she can enjoy company at the club she's called home for 41 years.
"I love that club even though I can't play golf. I try to go on a Friday for dinner or maybe a Wednesday," Fiorello said.
And, she believes she's still got it.
"I probably can still putt better than most people, even with my disability," Fiorello said with a laugh.
As for living 101 years and counting, Fiorello said her reasons for a long life are: "Number one, activity. I was always very active. Number two, I don't complain a lot about things or people. I mind my own business and worked hard. Always worked hard. Just tried to see the good in people. Sometimes, it's harder than hell, but you try."
6 Ways to Keep Your Game Sharp This Winter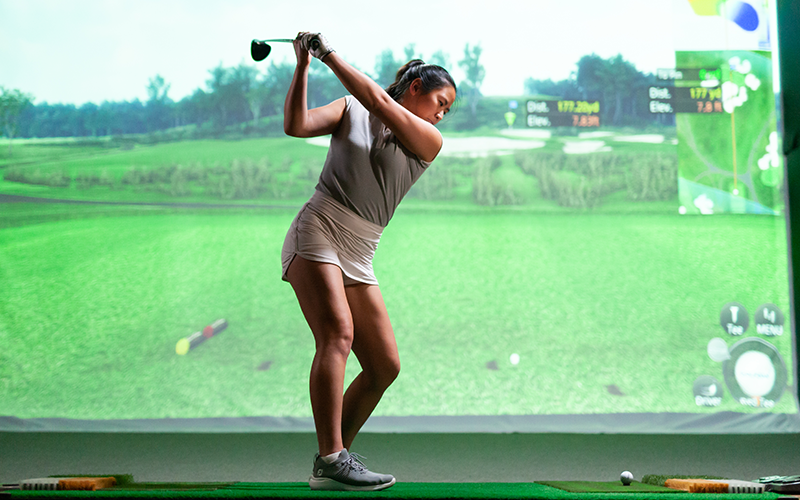 Winter is the dreaded season that turns the greens of the golf course to less-than-ideal conditions (maybe even snow and ice, depending on where you live). It is at this time that golf enthusiasts (yes, we are looking at you) may be tempted to hang up their clubs and wait until the first signs of spring hit to bring them out again.
But if you do this, you are missing out on a great opportunity to stay on top of your game and come out in the spring swinging better than ever.
How to Work On Your Golf Game This Winter
1. Use Indoor Golf Simulators
The golf simulators of today are incredibly sophisticated and have all kinds of technology that provide a solid alternative to playing golf outdoors in the winter.
These facilities provide an immersive experience that allows you to work on your swing and refine your techniques. Did you know that some of them even allow you to play virtual rounds of golf on some of the top courses across the globe? Talk about giving winter golf a whole new look!
Simulators are a great way not just to maintain your skills, but also to improve them in a controlled environment where the weather won't wreak havoc on your game.
2. Get High-Quality Winter Gear
If you're set on playing golf despite the harsher weather, we understand. Sometimes, even the weather can't keep you away from your love of golf, and we support that.
But how do you make playing in the winter less miserable and more manageable? By investing in the right gear.
You want to start with getting insulated layers that keep you warm without restricting your mobility. And thermal gloves are an absolute must to protect your hands from the cold. Cold hands won't get you far when it comes to your swing.
You also want to get some waterproof outerwear, such as pants and a jacket to shield you from the rain or snow. These should be quick to dry so that you aren't weighed down in your game.
By investing in pieces that will keep you warm and comfortable amidst the winter weather, you will be able to play much better and enjoy your game much more, too.
3. Practice the Mental Side of Golf
If the winter weather is enough to keep you off the course, that doesn't mean you can't work on other parts of your game.
If you've played golf, you know that this game is just as much a test of your mental strength as it is your technical golf skills.
So, how do you practice the mental part of this game?
By taking time to visualize yourself hitting great shots as well as not-so-great ones so that you can maintain peace and mindfulness even when things don't go as planned out on the course.
This mental training can help improve your focus and concentration and also help you maintain resiliency when the game gets really tough.
Consider adding some breathwork and meditation to your daily winter routine, as those things can come in handy when you're ready to head back out on the course in the spring.
4. Find Indoor Putting Greens
While the driving range often gets most of the attention when it comes to practicing golf, one bad round of putts can quickly show you that the putting is just as important.
So, use the winter as the perfect time to improve your short game and get your putting on par.
Look for indoor putting greens where you can work on your stroke and your accuracy without having to worry about counting any strokes.
Aim to go to these indoor facilities a couple of times a week (or more, if you can) for regular practice that can make a serious difference in your overall putting performance.
You'll love how much of an advantage this gives you when the outdoor season starts back up again, and you may be surprised at how many strokes this putting practice shaves off your game.
5. Work on Strength and Flexibility
What better time to work on conditioning your body for golf than the winter?
It may be worth finding a professional who can help you create a tailored strength training regimen to help build the specific muscle groups that you use in your golf game. A few months of this during the cold months will have your swing showing some extra power come springtime.
In addition to strength, you also want to work on flexibility. The range of motion in a golf swing is something that isn't practiced in typical movements, so take time to incorporate flexibility exercises into your exercise routine to enhance your swing, making it more controlled and more powerful.
The best way to work on this flexibility is by doing yoga and pilates, so find some classes near you.
6. Sign Up For Winter Golf Clinics
Do some research and see if there are winter golf clinics or lessons in your area hosted by local golf professionals. These offer a great opportunity to work on your game with some individualized attention.
These programs typically focus on specific parts of your golf game and give you personalized insights and guidance that will take your game to the next level.
In addition to the skill building, these clinics can also give you a sense of community that you may feel you're missing during the winter months. What a great way to keep your golf community alive and strong while also improving your game!
Winter can often feel like a sad time for golfers who feel that their game has to be put on hold for the next few months. This can make winter feel even longer, as you're just waiting and waiting for the nice weather to return so you can get back out on the course.
But wouldn't it be great if you could enjoy winter rather than dread it and also work on your golf game at the same time? Turn winter into a season of growth and improvement for your game by doing things such as using indoor golf simulators, getting yourself some quality winter gear, focusing on your physical and mental training, boosting your strength and flexibility, finding indoor putting greens, and participating in winter golf clinics.
With all those things, just imagine what your game will look like when the warm weather hits! You may not even recognize yourself as you step onto the fairways with boosted skills, more confidence, and a competitive edge that you never expected you'd find – especially in the winter!
PLAY TO YOUR STRENGTHS - AS MUCH A RULE IN ADVOCACY AS IT IS IN LIFE
By: - Nov 13, 2023
ODS Championship
By: - Nov 13, 2023
Cheema
By: - Nov 13, 2023
Waggoner
By: - Nov 12, 2023
Waggoner
By: - Nov 12, 2023
DeVaney
By: - Nov 09, 2023
STEPHENS
By: - Nov 08, 2023
Sepulveda Basin Vision Plan Contains 54 Holes of Golf
By: - Nov 06, 2023
SEPULVEDA BASIN "VISION PLAN"
By: - Oct 30, 2023
2023 LEGISLATIVE SESSION – FINAL WORD
By: - Oct 30, 2023
DIRECT POTABLE REUSE GOOD FOR THE COLLECTIVE, A CHALLENGE FOR GOLF
By: - Oct 30, 2023
Whitehead
By: - Oct 30, 2023
Eldridge
By: - Oct 29, 2023
Aguinaga
By: - Oct 29, 2023
Huy Dang Elected SCGA President
By: - Oct 26, 2023
Miller
By: - Oct 24, 2023
Four Ball Championship
By: - Oct 23, 2023
Dela Cruz
By: - Oct 22, 2023
Dela Cruz
By: - Oct 22, 2023
Harutunian
By: - Oct 18, 2023
6 More Fall Collections to Add to the Rotation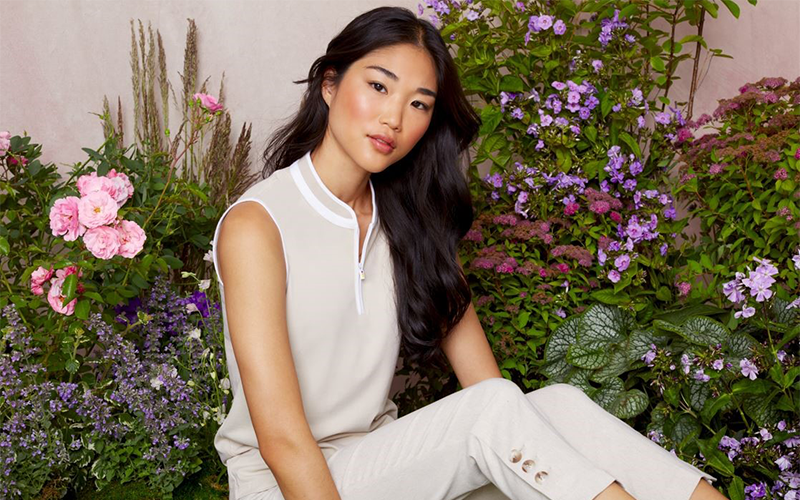 In last month's issue, I presented our golf fashionista readers fresh ideas for their Fall golf wardrobes. Goodness, it's nearly November and if you didn't feel it last month, you are certainly sensing the cooling of temperatures now. It's time to put the racerback tops, shorts and bright neons to the back of your closets. While you may have a nice selection of cool weather clothes, most of us will want to add a newcomer outfit (or two or three) to your cache. Plus who doesn't want to take a peek at this season's new offerings from our favorite brands?
I researched several popular golf fashion companies and presented an outfit from each that exemplifies their upcoming collections. Last month we started with a vignette of seven. This month, as promised, I am rounding out the list to get us warmed up to golfing in the cooler months ahead.
Anatomie
I begin with Anatomie, a brand that focuses on designer travel wear, but has become wildly popular with golfers. They are known for lightweight, wrinkle free apparel with a modern fashion edge. I met Jennifer Thompson, Divisional Sales Manager at the 2023 PGA show and discovered that you can find a section on their website dedicated to golf and tennis. You may just fall for this slim-fit vest with a high collar and quilted design with a zip out hood and antique brass trims. The new collection screams fall colors.
Shop: www.anatomie.com
G-Lifestyleis
G-Lifestyleis known for bright multi-hues, takes us in a colorful direction for Fall. They are introducing The Wild Orchid – their Signature Bloom for Fall 2023. G-Lifestyle drew inspiration from the beauty of the Hawaiian Islands (where we may head for a cool weather break) for this exclusive pattern in a collection that captures the essence of the tropical paradise. Carry a slice of Hawaii wherever you go, from the course to that flight to paradise.
Shop: www.glifestyleclothing.com
Ralph Lauren
Ralph Lauren is the most iconic brand on my list. It's been over 50 years since the first Ralph Lauren polo came to the market. I think they are one of the best apparel companies to stay on trend. Exemplified by this quilted and lightly filled vest that reverses from a solid-hued side to a color-blocked side. It also features a water-resistant shell. Perfect for layering and the morning drizzle. For their high-performance golf line, look for RLX.
Shpp: www.ralphlauren.com
Swing Control
Swing Control has been making golf fashion since I graduated from high school in 1979 (ouch, awhile back). And like me, they keep it fresh and new (ha, I never stop trying!) I fell in love with the brand when I tried on a pair of pants with built in tummy control. Yep, wide, gut tucking elastic waistbands in modern and current designs. Love it! This is a company founded by avid golfers with a serious commitment to style. This season, they present us with a sporty sleeveless mock neck in baby pique with a white contrast trim and a linen 4 pocket bottom with faux-horn button details at the hem. And of course their signature tummy control integrated into the waistband. It's an overall clean, modern sophisticated and monochromatic look.
Shop: www.swingcontrol.com
TJ Golf
My favorite newcomer to the scene is TJ Golf (Taylor Jordan). Their looks aren't too funky or crazy. They are clean and classic and can be a bit edgy, as well. You can work up a sweat in these clothes. For this article, they presented me the Sport Tight, maybe the most comfortable golf pants you will own. It offers two back pockets and two side pockets to hold all your golfing essentials. This heavier technical fabric will keep you warm and offer some much loved compression. They suggest to pair it with their Lightweight hoodie for a comfortable, athletic look.
Shop: www.TJgolfusa.com
TzuTzu Sport
TzuTzu Sport is always a head turner, whether you are wearing one of their flirty tops, skorts or dresses. They are never short on pattern, color and small details. This Fall's "Jelly Bean" top has a fitted bodice with princess seams for a most flattering look on a long sleeve top. It has a stand-up collar, quarter zip and ruching detail at the wrists for that extra touch. Hitting the green in a wide range of colors and patterns is sure to spark a confident and fun attitude, no matter your handicap.
Shop: www.TzuTzusport.com
If you missed the first edition to this story and want to see more just launched Fall collections you can read it here. I hope these stories inspire some fashion fun in your game. If you are like me, then you may just hit that ball a little farther when you add a little flare to your swing.
Cheers to the Solheim Cup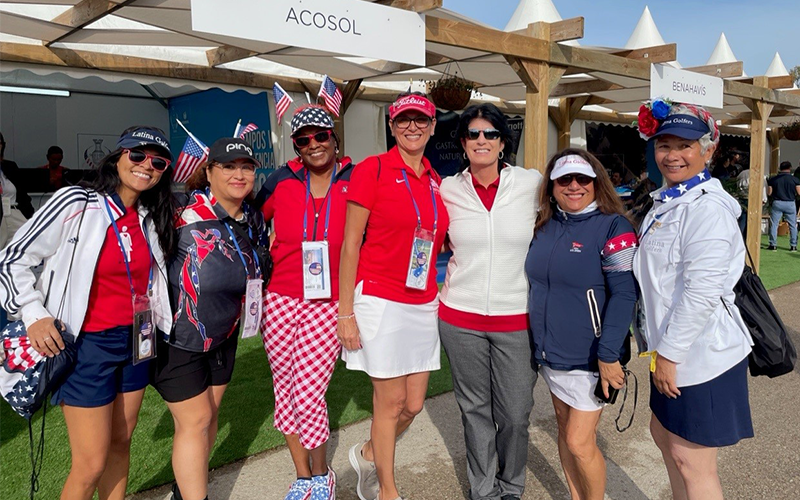 A huge "¡Salud!" is in order for the 2023 Solheim Cup competition held at the Finca Cortesin GC in Andalucía, Spain last month. Sure, Team U.S.A. did not bring home the trophy, but we didn't lose either. What? How is that possible? It was an historic Solheim Cup competition ending in the first-ever tie (14 - 14). After a nail-biting final day of singles matches, the Europeans came back, or rather, caught up, after not winning a single match on the first day of this three-day competition. So, in the end, the European team retained the Solheim Cup and celebrated like winners!
I remember it so vividly. By then, a group of our Latina Golfers Association members who made the 16+ hour trek to Costa del Sol in the Mediterranean of Espana from LAX were sitting at the "Solheim Cup Andalucía Plaza" sipping vino and cervezas while watching the final matches on the big screen. It was an unnerving ending to an exhilarating three days of amazing golf and atmosphere. Imagine a more vibrant WM Phoenix Open on every single hole. We were mostly surrounded by Europeans and when Spanish golfer, Carlotta Ciganda, secured the tying point, the crowd erupted in cries of Ole, Ole Ole. We looked at each other in total disbelief and exclaimed to everyone around us, "It was a tie, not a win." Most looked at us sheepishly and replied, "Yeah, but we retain the cup." Within minutes, the Plaza was transformed into a closing ceremony venue and the King of Spain was handing the Solheim Cup trophy to the European team.
It happened so fast and yet time stood still for us as we reflected on how special the week had been. Not only did we experience the most important team golf competition in the world for women, we did so in Spain! This journey took our Latina Golfers group to the roots of our heritage and culture and we took it all in. We toured historic places like Seville and Granada, we ate tapas and paella in the city centers of Malaga, Marbella and Estepona, we played golf and had fabulous spa treatments, visited the famous Mediterranean beaches of Costa del Sol, met new friends and some of my favorite moments were spent reuniting with amigas from the U.S.A.! My African American sisters in golf were there, Women's Golf Day founder and ambassadors were there and so were LPGA legends and PGA Board members. We were embraced by women from all over the world. It was wonderful and we loved being hosted as Solheim Cup official ambassadors! The Latina Golfers Association was appointed the fist-ever ambassadors for the Solheim Cup soon after Spain was awarded the tournament. It was the trip of a lifetime! So, yes, a well-deserved "¡Salud!" is in order for the 2023 Solheim Cup, Alicia Garrido, the Executive Director of the tournament, and our host country, Spain! We're already packing for the 2024 Solheim Cup in Gainesville, Va. Who's coming with us?
Simplifying the 3 Scariest Shots in Golf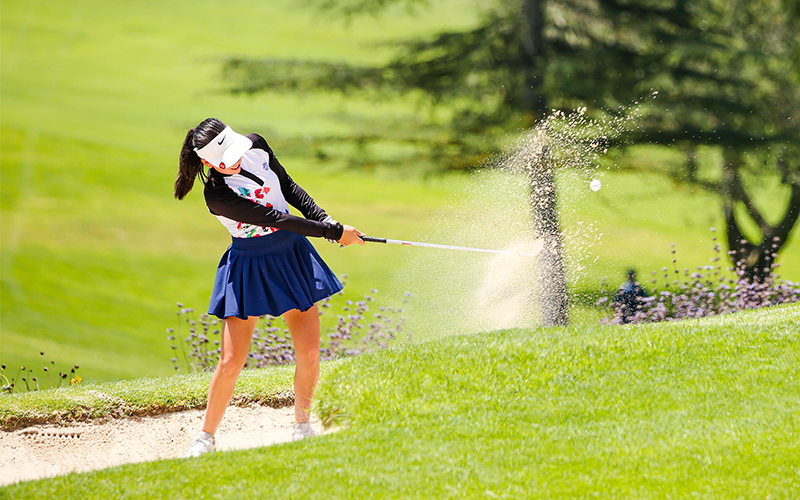 There are many shots in the game of golf that can be downright scary. Fear leads to tension, which affects both your full swing and short game. Whenever I'm afraid of something, I find comfort in breaking it down and simplifying each component of the situation. If I can address each part individually, then the sum of the parts is much less daunting. The same goes for golf.
One of the first questions I ask my students when assessing their overall golf game is, "What situations or golf shots cause you the most anxiety?" If we can't identify where the fear is coming from, we can't address it and, ultimately, overcome it. Below you will find the three most common answers to that question, along with a simplified approach to tackling them while out on the golf course. Keep in mind that you should be practicing these shots as well as working on them with your local PGA or LPGA golf professional, but when you are in the middle of a round and you find yourself uneasy about one of these shots, you will at least have a better understanding of how to best execute the shot and get yourself through the round.
BUNKER SHOT
Many golfers fear the standard greenside bunker shot. All logic and competence seem to go out the window the minute the ball trickles into the sand. This is not the time to play a detailed master class in your head about all the specifics of a greenside bunker shot. Nope. You just want out. And there is plenty of time after your round to revisit that master class … or take a bunker lesson … and practice, practice, practice so the next time you find yourself in a bunker, you feel more comfortable and confident about your ability to execute a graceful exit. So let's break this down:
At set up, turn your toes out about 45 degrees, so your feet are in the shape of a "wide V." This promotes a shallower swing, as opposed to a swing that is too steep. A steep swing will cause the clubface to dig into the sand instead of allowing it to bounce through the sand and under the ball.
Maintain a firm grip. A firmer grip will guard against the club moving or twisting in your hand when it meets the resistance of the sand.
Play the ball slightly forward in your stance. This will ensure you hit the sand first instead of the ball, allowing the ball to exit the bunker with the sand.
Place most of your weight on your front foot to act as a stable base and promote proper weight distribution during the swing.
In your follow through, keep the club moving as low to the sand as possible as opposed to trying to "pick the ball up" out of the sand. It helps to guard against hitting the ball thin.
Don't decelerate. Make sure you accelerate through impact, finishing on your front foot. You want your clubface to get through the sand with enough force to blast the ball out with the sand as it exits the bunker.
FAST DOWNHILL PUTT
Fast downhill putts make every golfer uneasy. Players often strike the ball on the toe of the putter face in an effort to decrease power at impact in hopes of better controlling the speed. The problem with this, however, is the tendency for the putter face to twist at impact, causing the putt to start off line. Another way to decrease speed on downhill putts without running the risk of the putter face twisting is to grip down (and I mean WAY down) on your putter. Grip down so far that your hands are almost on the shaft. Take a normal putting stroke, striking the ball in the center of the putter face. You will find a decrease in power without having to worry about your putter face twisting. It will also alleviate some doubt in the putt because you are incorporating your regular putting stroke as opposed to trying to hit the ball on the toe of the putter face, which is not something we tend to practice on a regular basis.
SIDEHILL LIE: BALL BELOW FEET
The sidehill lie is awkward and intimidating because not only do you need to incorporate a few extra swing thoughts, but it can be tough to keep your balance as well. Keep these simple thoughts in mind when you find yourself with a sidehill lie, with the ball below your feet.
Slow down your swing just a bit. It allows you to better keep your balance while giving you added control.

Stand a little closer to the ball than you would in your regular address position. This will keep you from having to reach for the ball, which will give you better balance at impact.
You want your backswing to be more vertical than normal, which will help you maintain proper posture throughout the swing and make it easier to keep your balance.
Keep in mind the ball will have a tendency to go a bit right so adjust for that in your set-up.
Utilize every last inch of that grip, meaning grip up as far as you can (opposite of gripping down). With the ball being below your feet you want the club to be as long as possible so it can easily reach the ball.
Already mentioned but important enough to mention again: swing slow and controlled. Swinging too hard and fast will cause you to lose your balance and any missed shot will be magnified.
Again, keep in mind this is a simplification of these shots. A lesson with your local PGA or LPGA golf professional will include more details, as well as swing changes that tackle your own personal challenges with your golf game. But when in doubt, implementing these swing thoughts will get you out of trouble and on to your next shot so you can better enjoy your round.
"Not everything that counts can be counted, and not everything that can be counted counts."
By: - Oct 17, 2023
Juarez
By: - Oct 16, 2023
Amateur Players Tour of Southern California
By: - Oct 12, 2023
TOCC Promo
By: - Oct 09, 2023
Kadoguchi
By: - Oct 09, 2023
"MAKING CONSERVATION A CALIFORNIA WAY OF LIFE"
By: - Oct 02, 2023
Heaverlo
By: - Oct 01, 2023
Torres
By: - Sep 28, 2023
Industry Leaders & Water Providers Discuss Ways to Incentivize Water Conservation
By: - Sep 28, 2023
Finest Things Golf Club
By: - Sep 26, 2023
San Diego Social Golf Group
By: - Sep 22, 2023
7 Just-Launched Fall Collections to Add to Your Wardrobe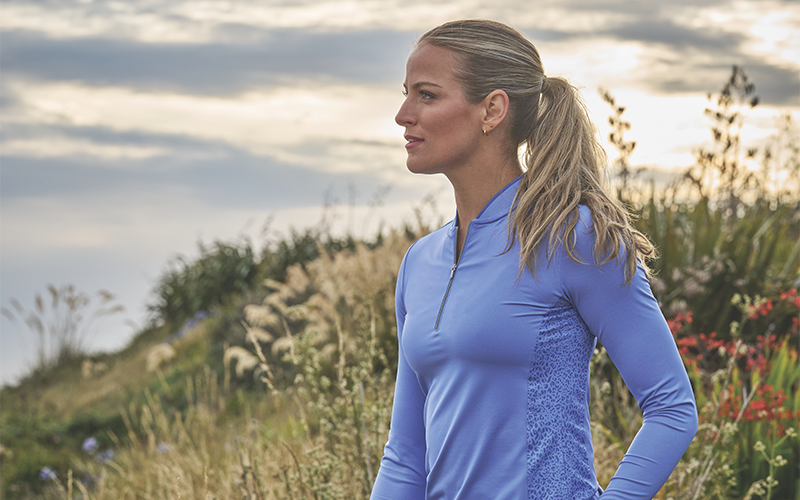 Did you feel a little morning chill? Yep, its's time to gear up for Fall. I think cooler temperatures and dicey weather makes dressing for the course more interesting. What's on my mind? Fall colors and patterns and warm fabrics and layers. Golf fashion evolves each year and I, for one, look forward to seeing the season's offerings from my favorite brands. So, for this seasonal story, I reached out to fourteen popular brands, and asked them to give me one outfit each that exemplifies their new Fall collection.
If you enjoy staying on top of the latest golf fashion trends, I think you will find this list exciting. Because I am sharing a broad selection of new apparel ideas, I am writing two editions to this story. You will see seven beautiful new fashion looks in this first edition, and another seven in next month's publication. I hope they will give you layers of inspiration when planning your Fall golf wardrobe.
Amy Sport
For days when you want to look great AND play great - oh wait, that's all of them...Amy Sport Fall 2023 does not disappoint. Owner/designer Amy Lipton is inspired by color and patterns and is not a huge fan of beige. Can you tell by her selection for this story?
Amy Lipton's pick: the Italia Floral Collection. Bold hues of pink, orange, and purple that pairs with Paloma pink solids. It's a feast for any golf fashionista's eyes. It's a polished look featuring pieces that are utilitarian, versatile and chic. This Fall's standout floral aesthetic by Amy Sport is a hallmark of her brand).
Shop: www.AmySport.com
Belyn Key
Betsy Rittenhouse, the co-founder of Belyn Key is excited to present us "Mama Mia" which was released just this month (September). The Mama Mia Collection is chock full of print and color. What's unique about this line is that the pieces are designed to be worn together for the look of a dress, yet with the great fit of separates. They have been engineered to align perfectly. The floral stem prints can be interchanged for a variety of looks in the same collection.
Shop: www.belynkey.com
Dunning
Dunning presents their "Fallow" line of ventilated polos and skorts. This is a company focused on high tech fabrics. They have a Ventilated approach of using thousands of tiny holes for optimal breathability. The Fallow line features a sleek animal print pattern in trend-right colors like black, white, halo (navy), dahlia (red), and jewel (purple). While Dunning began with men's apparel, they hold their women's products to the same high standard, which helped enable them to be the Official Uniform Supplier for the 2023 and 2024 U.S. Solheim Cup teams.
Shop: www.dunninggolf.com
G/Fore
This Fall, G/FORE has some great looks focusing on very cool outerwear pieces, and for this story, submitted this stylish puffer vest. Featuring a coated nylon quilted shell for an elevated look and a Circle G's imprint on the back for some extra style. While it's not for the meek in the pocketbook, a statement piece like this vest advances my entire wardrobe. It's a must-have for heating things up.
Shop: www.gfore.com
Kinona Sport
Kinona Sport can always be relied upon for something unique each season. According to co-founder Dianne Celuch, the Fall trend they love is a fun placed applique that provides a bit of retro in their "Mod" golf skort or dress, worn with Kinona's "Winter Rules" low mock with sporty stripes. Also check out their website for the lightweight "Layer Slayer" vest that can add a layer of warmth to complete the sporty, feminine, retro look. This brand continues to challenge the norm of women's golf apparel, giving us confidence to express ourselves through the game.
Shop: www.kinonasport.com
Peter Millar
Chic yet approachable, andalwayscomfortable, the Peter Millar women's Fall line showcases both luxurious lifestyle designs and sleek performance apparel. This Fall, Peter Millar presented me with their iconic Crown Sport performance line. The Crown line is centered primarily on natural fibers, highlighting some of the softest Pima cotton, Merino wool and world-class cashmere.
Shop: www.petermillar.com
Sofibella
Bernadette Ray, National Sales Director for Sofibella is fired up about Fall and thrilled about the Elegance collection launch. A classic black & white color story is reinvented to serve the modern player with textured knit fabrics and mesh inserts for extra ventilation during play. I personally wear a lot of this brand and can attest, the Sofibella fabrics are SO soft. Long known for their tennis lines, they are making big waves in golf apparel these days and this black and white ensemble does not disappoint.
Shop: www.sofibellawear.com
I hope you are as excited as I am about the new Fall golf fashions coming our way. And I am just getting started! Next month I will bring you more brands and styles that are sure to inspire your Fall golf fashionista aspirations. As I have often said, a great game starts in your closet!
Simplify Your Golf Wardrobe with Ease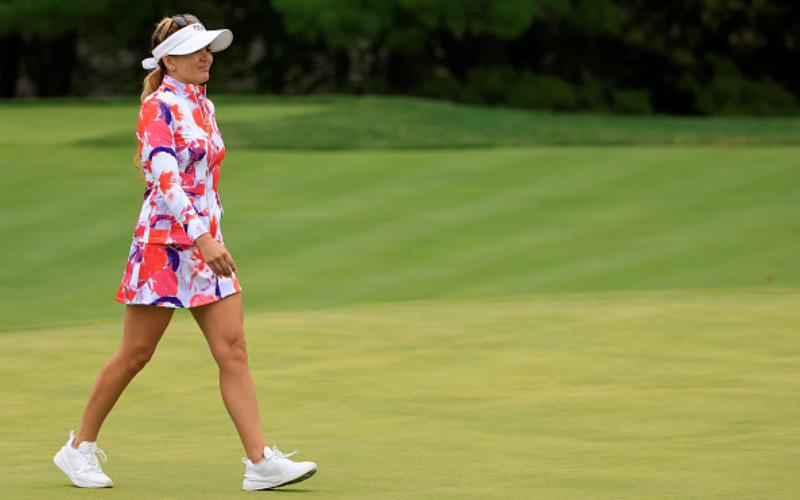 I was recently asked to join a friend for a last-minute round of golf and as I tried to curate an acceptable outfit, I ended up with clothes strewn all over the closet floor and I think the mirror actually growled at me when I peeked to see how the ensemble was coming together. Spoiler alert: not great. I ended up wearing something that was just "meh," which set the tone for the day and my score reflected it. Truth be told, this has become the norm and I realized I needed to get my "stuff" together. And although there are a million ways to approach decluttering a closet, I decided to take my own route, and when I play my next round of golf I will be getting ready like a champ.
The first thing I did was think back to what I was wearing when I played some of my best rounds recently. I noticed a pattern in terms of both color scheme as well as style of tops and bottoms. There were a handful of recurring pieces that were used to build different outfits. Those articles immediately secured a permanent place in my rotation and I promptly put them back on the rack.
From there, I removed everything else from the closet, laid everything out and evaluated each piece carefully. I used the following process to dwindle my wardrobe down to a manageable and tidy state.
Does it fit?
This might seem like common sense, but how many ill-fitting garments do we have in the back of our closets just taking up space? Here's the thing...I have never said no to a taco or piece of birthday cake (because that would just be rude) so I'm all about weight fluctuation. But I'm talking about those pants that never did fit quite right and deep down you know they never will, but parting with them causes you to "feel something." Part with them anyway. You'll be fine. As you make headway on discarding those unshapely pieces, it will become easier to decipher what truly fits (on most days) and what you are delusional about.
Are you genuinely comfortable?
At first glance this might seem the same as "does it fit?" but feeling genuinely comfortable in your clothes goes well beyond how tough it is to button your pants. We all own clothes that fit and, if you do say so yourself, you look fabulous in. But they are often also the clothes in which you can't lift your arms higher than your shoulders or take a full stride without worrying about tearing your pants right down the middle seam. Throw a golf swing in the mix and now we are really in trouble. Are you self-conscious about how far down your waistband slides when you kneel to read a putt or bend over to stick a tee in the ground? Are you more worried about your shirt flying up in your follow through than where the ball is going? The main job of your outfit is to allow you to perform at your highest level and you can't do that if you are distracted by what you are wearing. So yeah...it's one thing for the article of clothing to fit but it must also allow you to move around without feeling constrained or self-conscious.
Material Matters
I'm excited to see that golf fashion offers more options in material and fabric than ever before. A wider variety leads to better odds of finding that perfect article of clothing, leading to a new favorite outfit and ultimately, a wardrobe full of pieces you absolutely love. But that also means it's important to pay attention to what fabrics make YOU feel your best. Everyone is different so just because "Betty" loves the feel of microfiber doesn't mean you need to shy away from a poly blend if that is what you prefer. But generally speaking, fabrics that breath, wick away moisture (especially sweat), enhance comfort in the current climate, aren't too thin or too thick, etc. are best. And bonus points for any SPF, since we can ALL stand to gain from maximum protection against sun exposure.
Once the items that I truly felt good in were established, it was time to assess whether or not they absolutely deserved to be placed back into the closet. I asked myself, "Do you actually like the color? Does it go with the rest of your wardrobe?" I picked my top five favorite colors, ensuring they went together as I mixed and matched, and stayed with that general color scheme. I tend to lean toward darker colors and a more monochrome look. That's just me. You do you, as they say. I did allow myself a few busy patterns and "fun colors" for those days I'm feeling a little "extra," but those outfits don't require a lot of thought. I either want to wear that colorful floral golf dress or I don't. There isn't any mixing and matching to complicate matters.
I would be remiss if I did not mention that this is a continuous process if you want to keep yourself from falling back into closet chaos. The best time to assess an outfit is right after a round of golf. The nuances are fresh in your mind and if you are having any doubt whatsoever about wearing something again, get rid of it immediately.
I now find that even though I have less articles of clothing in my closet, I in fact have more outfit options because I can be certain that I love (or at least really like) every piece I'm looking at. It helped me to organize everything according to color, but some people prefer categorizing by hanging all their tops together, sweaters, skorts, etc. Pick the method that works best for you. There is no right or wrong. Take that zen mental state to the golf course and notice the difference it makes in your performance. The saying really does hold true: Look good, play well.
2023 LEGISLATIVE SESSION TELLS US MUCH ABOUT DIRECTION OF CALIFORNIA WATER LAW
By: - Sep 18, 2023
Burton
By: - Sep 18, 2023
Breshears
By: - Sep 14, 2023
Takahashi
By: - Sep 13, 2023
DeGrazier
By: - Sep 10, 2023
Spieker
By: - Sep 09, 2023
DeGrazier
By: - Sep 09, 2023
Liesmer
By: - Sep 07, 2023
SACRAMENTO UPDATE
By: - Sep 05, 2023
Maui Relief
By: - Aug 30, 2023
Dierking
By: - Aug 24, 2023
Bandon Dunes
By: - Aug 21, 2023
COLORADO BASIN GOLF & WATER SUMMIT OCTOBER 12 IN LAS VEGAS
By: - Aug 21, 2023
Bullard
By: - Aug 17, 2023
Broten
By: - Aug 17, 2023
Barnes
By: - Aug 17, 2023
Ungano
By: - Aug 17, 2023