10 Emerging Women's Golf Apparel Brands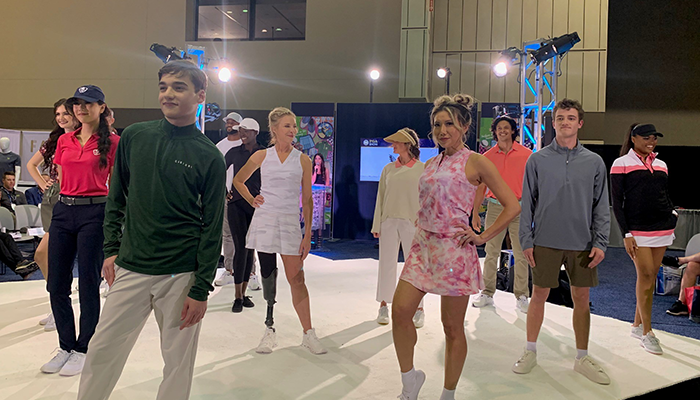 Attending the PGA show is a thrill for me each year. This is THE major showcase of the latest in golf equipment, technology, apparel and accessories. It's an important event for fashion brands, providing an opportunity to show off their latest collections and trendsetting idea.
The PGA show is high energy! There are hundreds of aisles with interactive displays, racks of beautiful apparel and a very cool "live" fashion show. Thousands of vendors show off their products. Golf retailers and clubs from around the world converge, ready to place big orders for the upcoming season. For new apparel brands, the show offers a chance to launch their designs with the hope of hitting it big.
The familiar brands were there again this year. But there were many exciting newcomers, so I decided to give you a run down on some that caught my attention. What fun to be the first on the course to wear a great looking, performance golf outfit! If you want to be a trend setter look for these newer brands:
"Birdie & Ace" is a fashion company with both golf and tennis players in mind. This brand is inspired by that great feeling when you putt in for a Birdie or serve up an Ace. They came out swinging at the PGA show with a booth filled with exceptionally designed skorts that get attention on the golf, tennis, or pickle ball courts. If you are in the market for a colorful performance skort than check them out.
70Degrees is an equestrian and sport apparel brand (named after keeping the wearer of their clothes at the optimal temperature of 70 degrees) that now offers a collection specific to golf. This makes sense to me as many equestrians come to my golf shop seeking the long sleeve UV protection tops that they carry. They have unique, classic designs and advanced fabrics to wear in the ring, at the golf course, tennis courts, and beyond.
Radmor Golf is a company that takes fashion and "green" sustainability to a new level. This brand explains that in the United States we throw away 10+ million tons of clothing each year (that's 80 lbs. of clothing a year per person), the majority of that being polyester. Radmor is the first brand in the golf industry to focus on the elimination of 'virgin' polyester on a garment level. That's all great, but what does their collection look like? Retro, classic and awesome.
Taylor Jordan is a company named after the daughter of a husband-and-wife team out of Phoenix, Arizona. The desert themed prints and deep racerback tops shout out a love for golf in the desert. If you prefer feminine looks with bright colors, you will enjoy their tops and skorts. The TJ Tour Neon tri-colored skort is a standout. Also, check them out for puffer vests, joggers and trucker hats.
Dunning golf apparel has been around for men's golf fashion for a while, so it is refreshing to see the brand embrace the women's market with a vengeance this year. The styling is classic and luxurious with a focus on performance. The LPGA Tour proudly announced that Dunning Golf will be the Official Uniform Supplier of the 2023 and 2024 U.S. Solheim Cup Teams. The striking uniforms were displayed at the show and unveiled by Solheim Cup Captain Stacy Lewis.
Mark & Lona is a must-see if you are looking for original, eye-catching trendy golf outfits. Modern, colorful and luxurious, this may be your new favorite brand if you want to draw attention. This company has been in the golf fashion spotlight in Japan for years and was vibrantly on display as a newcomer to the PGA show.
Ororo Heated Apparel specializes in vests and jackets designed for any cold weather activity. This is a Midwest based company, very familiar with cold weather! Ab battery is built into both the collar and upper torso of the garments. The charge provides 10 hours of heat on low setting and six hours on medium. Now the cold weather won't prevent you from hitting the links.
27 Miles Malibu creates California cashmere knitwear that is fun for golf. The company's name was inspired by Malibu's twenty-seven miles of scenic beauty. This is a California-born, luxury cashmere knitwear line offering women the perfect blend of high fashion and street styles. The collection combines colorful, modern elements with a retro vibe with ultra-soft premium cashmere that is ethically manufactured.
Tipsy Elves was a surprise for me to see at the PGA show. I knew of them from a purchase I made on Amazon for an "ugly" Christmas sweater. This company is GREAT for themed merchandise. My sweater had a battery and Christmas lights built into it. I'm for sure carrying their line for the holiday season. They don't have a deep selection of golf apparel, but they offer a wide selection of merchandise that works well for the holiday themes that we love to dress up for.
Kinona is not a newcomer to the show; (they attended a few years before). But Kinona is a favorite of mine as a "newer" company to the scene. Kinona is a "step ahead." They are one of the first golf lines to showcase beautiful apparel on models of all ages, shapes and ethnicities. They have a unique Kinona "look." At the show they highlighted their latest collection that added appliqué, quilting and scallop details. Keep an eye on this company.
Hopefully this article has helped you tee up some fresh wardrobe ideas to bring to your game. I like to say, "a great game starts in your closet" and in this case, at the PGA show!