How Simplifying Your Golf Game Can Help You Improve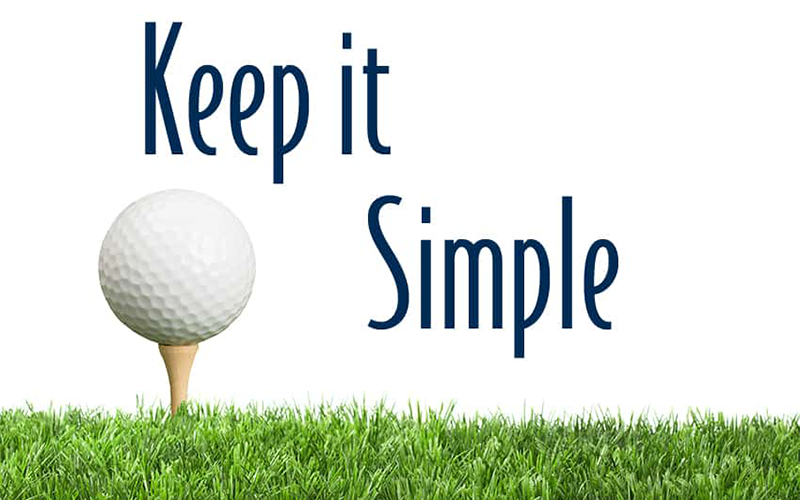 If you aren't constantly trying to improve your golf game, are you really even a golfer? I realize there's probably more than one answer to that but the only acceptable answer is a definitive NO. I'm kidding. Kind of. But here's the thing……for most golfers, the fact there is always improvement to be made is one of the most alluring aspects of this addicting game. And one of the most detrimental things you can do when trying to get better at something is to make it more complicated and confusing. When I first started teaching, I quickly realized that by making things as simple as possible, students were able to make progress much faster and more effectively than if I talked to them like I was a NASA instructor. So my whole teaching technique quickly started to revolve around my new favorite word: SIMPLIFY.
I even adopted that word as my own personal mantra in all things "golf". Not only did I see improvement come more quickly and effectively, but things just seemed lighter overall….dare I say, "more fun" even.
We are excited to add a new staple to our newsletter where we will be taking specific golf topics and simplifying them to the point where they become much easier to manage. Think of it as a deep decluttering of sorts…only for your golf game. We will tackle all the extra minutiae we golfers tend to bring into the game and dwindle it down. Too many swing thoughts? We'll explain how to simplify that. Want to organize your golf bag and carry the bare minimum? We'll help you decide which staples you need and why.
Not sure how to prioritize your practice time when you only have 20 minutes? We'll guide you through the most effective way to approach your session. Too many golf outfits taking up room in your closet? We'll help you narrow it down to some staples and must-haves that take the guess work out of planning your wardrobe for your next round.
Want to simplify your goals, score keeping, swing thoughts, mechanics, thoughts as you approach the first tee, etc.? We got you. We will be discussing all this and more. And please reach out with any input, suggestions or areas you would like us to tackle as we strive to simplify the game of golf, one topic at a time.