How to Choose the Perfect Skort as Offerings Evolve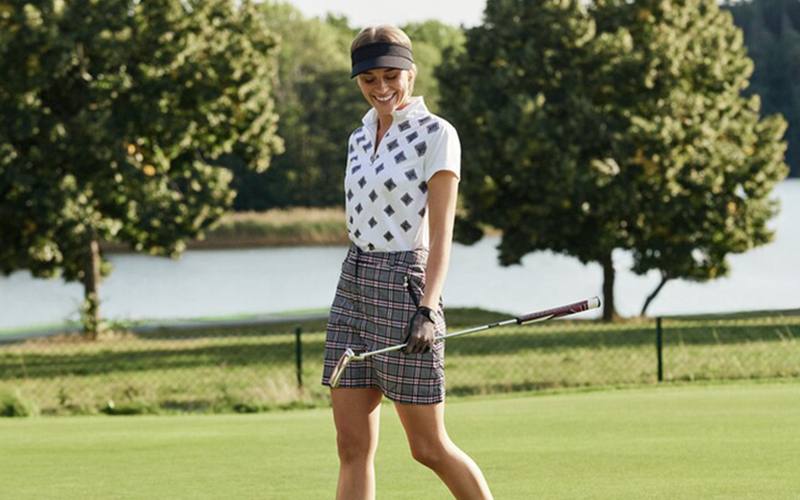 I'm almost always in skorts when I hit the links these days. They're comfortable, flattering and I swing freely in them. But there was a time when skorts were not my go-to, years ago, when strict dress code rules at many clubs had us wearing them no shorter than four inches above the knee. Thank goodness those rules are bending, because more women are playing the game and shopping selections are broadening as a result. If you know where to look, you can find fashionable golf skorts in a range of lengths to fit your fancy.
While a 17-inch skort is my go-to, if you have the legs to rock a 15-inch, go for it! I hear from a lot of women in my shop that they like the coverage of a 19-inch skort, so I search them out. Regardless of your length preference, there are several brands that are particularly attractive and accommodating to all our needs. Buy the skort, skip alterations and head straight to the tee.
Perhaps the best place to start is the upscale Allie Burke Sport. These "statement" skorts have kick pleats, scallops or strait cuts in a variety of stunning prints and coordinated trim details. The under-short fabric is an exact match to the skort.
Available in: 15-inch, 17-inch or 19-inch lengths
Shop: www.allieburkesport.com
The Sofibella collection also offers three lengths of pull-on skorts. Look for ruffles, flounces and scallops in these fun "signature" designs.
Available in: 16-inch, 17-inch or 18-inch lengths
Shop: www.sofibellawear.com
One of my personal favorites is the "Yaya" scalloped skort by GGBlue. You'll find several colors and prints of this beautifully layered skort.
Available in: 18-inch standard length or 15.5-inch
Shop: www.ggblue.com
If you like a trendy and unique look, then Lucky in Love should be on your radar. I feel like I am on vacation when I wear this brand. They offer dozens of styles.
Available in: 15.25-inch for "short" or 17.25-inch lengths
Shop: www.shopluckyinlove.com
Golftini is known for their fabulous skorts and in their early years, skorts were all they made. Best dressed golfers will be familiar with this brand's broad selection of artsy designs
Available in: 16.5-inch, 17.5-inch and 19-inch lengths
Shop: www.golftini.com
Abacus Sportswear is a pioneer in stretch fabrics because it's a luxury brand that combines Swedish design with optimal sports performance. Their skorts are moisture wicking and flexible while maintaining an elegant and classic style, available in both solid colors and printed fabrics.
Available in: 17-inch and 19-inch lengths
Shop: www.abacussportswearus.com
Daily Sport, a Swedish apparel company has been around since the mid-90s, was one of the first large suppliers of boutique golf apparel for women. Their skorts feature beautiful, stretchy fabrics with zipper and piping details.
Available in: Standard 18-inch and 20-inch lengths
Shop: www.dailysportsusa.com
And finally, you can't go wrong with Jofit. There's a lot to like, my personal favorites being the "Mina," "Knife Pleat," "Petal Hem" and "Wave" skorts. Their website also offers a nifty sizing guide that breaks down each skort by length per size. How nice!
Available in: All lengths
Shop: www.jofit.com
I have often said that a great game starts with confidence. Feeling comfortable in your clothes helps build it. When it comes to skorts, that is the long and short of it.