Latina Golfers Association to Serve as U.S. Solheim Cup Ambassadors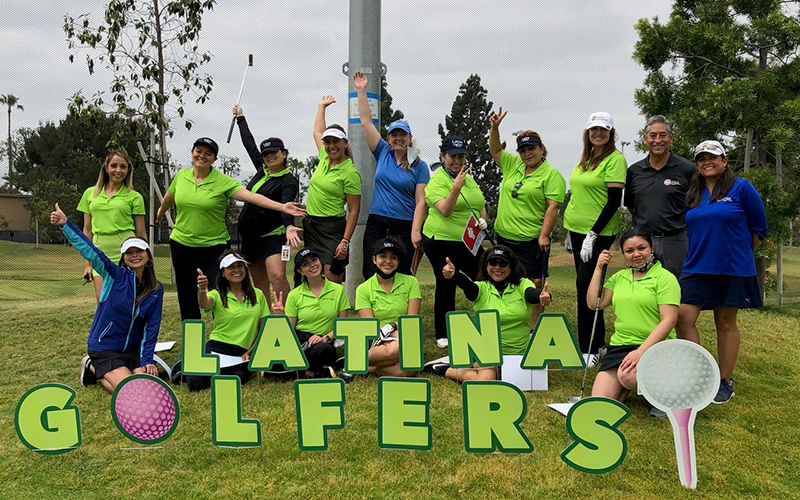 Not a day passes that I don't reflect on the amazing world golf has opened up for me. In a million years, I couldn't have dreamt that one day I would be a contributing to the golf industry by growing the game with women and the Latinx community.
In 2021, Solheim Cup Executive Director Alicia Garrido anointed the Latina Golfers Association (LGA) as the official United States ambassador when this year's championship heads to Spain. We are taking 30 Latina Golfers members to the competition in Spain this September.
"I had heard of the Latina Golfers Association and it was obvious they would be the perfect ambassadors given their cultural ties to Spain," said Garrido. "We look forward to hosting them and all the guests joining us from the United States. I can assure you; it's going to be a Solheim Cup like no other! You won't be disappointed."
Alicia and her husband, Inigio, led the campaign that brought the Solheim Cup to Spain through their company, Deporte & Business. As ambassadors, it's our job to spread the Solheim Cup gospel to golfers in the United States. Being held from Sept. 22 - 25 in the heart of Costa del Sol at Finca Cortesin Golf Club, this is one of Spain's most popular beach resort areas on the Mediterranean sea with some of the most intimate traditional city centers in the country.
It's easy to create your own unique golf & cultural vacation out of the trip. Costa del Sol ranks as a top golf destination worldwide, boasting the largest concentration of golf courses in Europe. Tickets are still available as well as hotel inventory near Finca Cortesin (email at [email protected] for more information).
The Solheim Cup in Spain is a bucket list trip for me. My golf journey began when I said yes to an invitation that changed the trajectory of my life. The invitation was a date, and within the first hour, I knew I had found the love of my life, a love that has turned into a 15-year relationship with the game of golf. I was obsessed, and I wanted more. Eighteen holes easily turned into 27, then 36.
I was the golfer who with every post prayed for a lower SCGA handicap! Before long, friends and colleagues started calling me the "Latina Golfer" and encouraged me to play in charity golf tournaments. It was a new world to me. I knew nothing about golf as I was raised on the other side of the tracks from any golf course.
I was strictly a recreational golfer, unaware of the business culture of golf. I was invited to play in foursomes and my professional and social networks were growing exponentially. Being new to Los Angeles at the time, it was clear to me that the common denominator to my growing network was golf. I was welcomed into circles that would not have been so easily accessible to me. What also became evident to me was the lack of women, especially Latinas participating in the golf outings.
I was moved to take action and on Mar. 11, 2008, I launched the Latina Golfers Association at Brookside GC with 94 Latinas in attendance; ready and anxious to take on golf. My passion for golf quickly turned into a movement to empower women by teaching them how to leverage golf as a business tool. Today, the LGA has over 3,000 members in Los Angeles County and organizes golf clinics, golf lessons, golf outings, golf networking events, golf fiestas at the driving range, golf social events, golf tournaments and golf travel.
I'm counting the days for my dream golf vacation. I'm pinching myself as I write this because, well, I'm living my best life, all because I said yes to golf all those years ago.