The Importance of Investing in Your Golf Game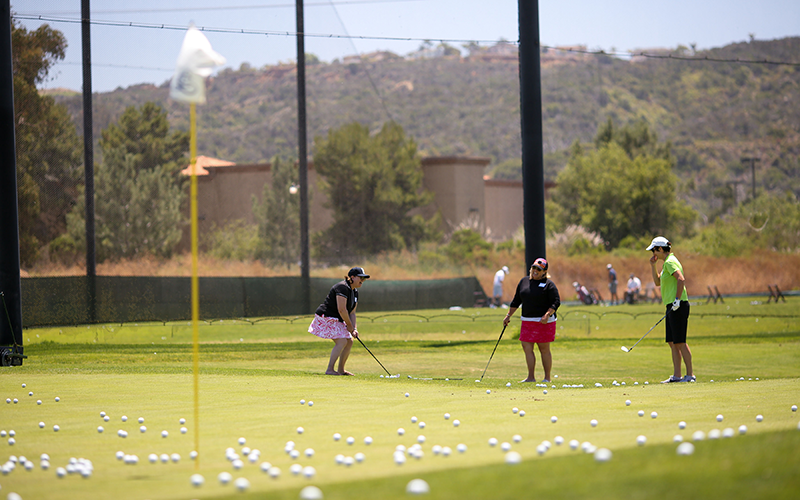 When most ladies decide to take the plunge and start playing golf, they begin by borrowing some clubs, finding a comfortable (but stylish) outfit and picking up a pair of golf shoes. They're checking out the sport, trying it all on for size so-to-speak.
But then something happens. You're having fun with your friends or partner, hitting some "pure" shots, sinking some long putts, and, suddenly, you're hooked. It's at this point that you realize, in order to keep playing, improve your scores, get more distance, even play in a fun ladies tournament, you should think about investing in your game. But where do you begin?
INSTRUCTION
When I first started playing, hand-eye coordination was so foreign to me that it was a real struggle to make solid contact with the ball. I found that group clinics were the most affordable way to jump in. Being in a group with other women who were new to the sport helped me to understand that we were all in the same boat. We had similar questions and struggles. And watching the other women hit their 9 irons allowed me to see "normal beginner swings" (which looked a lot like my own).
I eventually also took private lessons, but finding the right instructor was not all that easy because not all golf coaches match with all personalities and learning styles.
Ask other female players who they've taken lessons with, see if they have an online presence you can check out, or a group clinic you can observe. If you're a visual learner ask if those instructors provide you with videos and send you notes from the clinics. It's best not to commit to a package until you've had a couple of lessons and know they are a good fit for you.
PRACTICE
We all know we're not going to improve if we never practice, so when we make the investment in lessons, we should invest in our practice time as well. This may be on the range, or could be in your own backyard with a whiffle ball and net. Try working on your indoor putting game, or practice in an area of your home where you can make 20-30 swings in without knocking down your favorite flower vase! Your coach should give you some drills and it's up to you to make the commitment to yourself to actually put this practice time in your calendar so it really happens.
GOLF COURSE BEHAVIOR
Correct protocol includes fixing your divots out in the fairway, repairing your pitch marks on the putting green, and knowing where to park your golf cart when you reach the green. And of course, P.O.P. (also known as pace-of-play). These behaviors are so important to the enjoyment of not only the group you're playing with, but everyone else who plays the course behind you that day, and even a few days later.
Understanding pace-of-play, how to take care of the course, and basic rules can help you feel more confident and comfortable on the course. This knowledge can also be helpful if you plan to participate in organized events or competitions.
Commit to 30-45 minutes per week of free online content that shows how to repair damage, where to park the golf cart, and tips for pace-of-play. If the course you play at has a ladies group, check to see if they offer clinics or "lunch and learns" covering these topics, or consider attending one of my Girlfriends Golf Experiences.
EQUIPMENT
There are differing opinions on when you should get fitted for clubs versus using a second-hand set, or even borrowing clubs for a while. Since this is a substantial investment, rushing this decision could be costly. Take your time as you work on your swing. The most important element here is that the golf clubs are not too heavy. Many women take their husbands' hand me downs and the clubs are too heavy for them, resulting in bad swing habits right off the bat. Whether you start with an inexpensive starter set (beginners don't need a full set of clubs) or used clubs, make sure you can easily swing the clubs without having to labor because of weight. Once you have had a series of lessons and the instructor can identify your general swing tendencies, then it may be time to start thinking about getting fitted.
By investing in yourself, you can improve your skills and experience the joy and excitement of playing golf. So, take the plunge, and enjoy your journey!