SCGA Champ Lilia Vu Secures First LPGA Major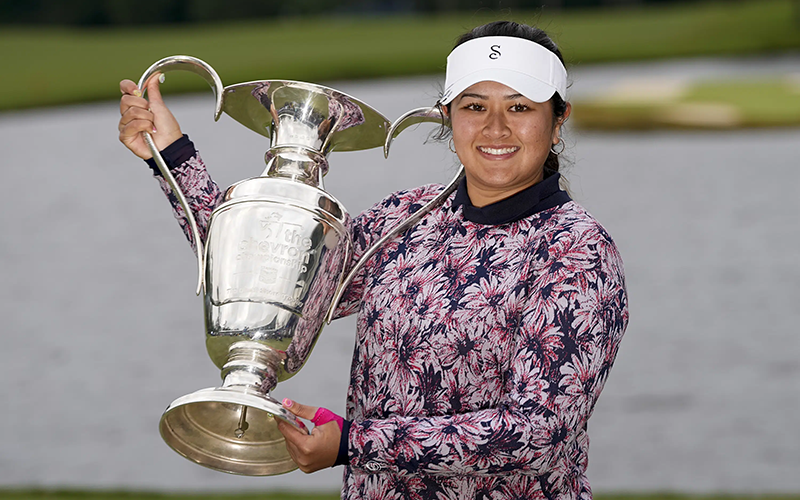 When Lilia Vu stepped up to the first tee at the JM Eagle LA Championship, she was announced as a major champion for the first time at an opening hole of a tournament.
It's an awesome distinction she'll always own, and it means a lot to her.
"It feels like the hard work paid off," Vu said. "To know I didn't really change much of my technical golf skills, it was more being in a mentally better place and allowing everything to fall into line."
Vu - a Fountain Valley High and UCLA alum - almost gave up on golf. Good thing she stuck it out. At 25 years old, Vu jumped in a frigid pond in Houston after winning the Chevron Classic in a playoff. A major breakthrough and a $765,000 winner's paycheck.
"I think it was surreal for me for that moment to actually come," Vu said. "I remember not being in the field a couple of years ago when I was going through a hard time with my golf game and watching this event on TV. Three years later, holding that trophy up is completely insane to me."
She started to struggle with her game four years ago, and then she lost her grandfather in the pandemic.
"I was so hard on myself my rookie year in 2019," Vu said. "I lost just about all the confidence I ever created. It was just a really hard time for me. I looked at golf in a bad lens. Basically, life or death when it's just golf. I'm more than that.
"I'm a person. I'm a daughter. I'm a best friend. All that stuff. Just to separate myself from a pro golfer, from my identity. That's been a really big thing for me, trying to have fun on the golf course and just enjoying my time out here."
Vu still lives in Orange County and returns home every few weeks during the golf season when she's not playing in a tournament. Recently, she returned to her home away from home at Wilshire CC, an LPGA Tour stop.
As a Bruin golfer, she played Wilshire on a regular basis." She went directly from the high of winning her first major - and second tournament this season after her first victory in Thailand - to Los Angeles. She missed the cut by one shot.
"It's a little overwhelming post major win," Vu said from Wilshire. "To be here is very comforting. There's a lot of nostalgia. It feels like home. I was here once a week with UCLA playing Wilshire Wednesdays in the morning."
No major swing changes for Vu the last couple of years, but there was a major change.
"It's all mindset, allowing it to happen. I know everybody wants to win out here," Vu said. "I think at the end of last season I wanted to win too much. I was putting so much pressure on myself at the end. I came into this year wanting to have fun and knowing I'd eventually win."
Southern California is where she honed her game as a junior golfer. She loves playing Pebble Beach - her first time was at 8 years old - and her favorite tournament was the FCG Callaway World Junior Golf Championship.
"Callaway Junior Worlds was really significant for me," Vu said. "And I played at Pebble Beach when I was 8 years old all the way to 16, 17. You'd go down there (to Torrey Pines) and play with people all over the world. It was so fun to meet people from Thailand, China, Mexico, you name it. And I just felt like that was nice that San Diego was the place to go."
Vu has an impressive résumé, which includes numerous awards like Pac 12 Freshman of the Year in 2016 and Symetra Tour Player of the Year in 2021. She also took home the 2016 SCGA Women's Amateur championship the summer before her sophomore year at UCLA.
She embraces her Southern California junior golf roots, when playing golf was a good time.
"It was really fun. I got to travel a lot. We travel way more now," Vu said. "My parents took me just about everywhere just to hope to play Division I golf. That's what happened. I went to UCLA, and now we're here."
Lilia Vu, Major winner.