More to Explore, More to Learn and More to Advance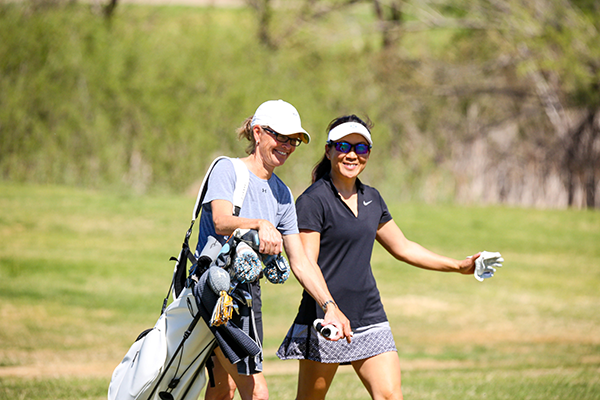 A good friend gifted me with this vintage poster soon after I picked up the sticks. The artist: unknown. The subjects: two ladies from Shanghai in the 1930s doing what appears to be…golf. It's altogether fascinating, elegant and a tad cringe-worthy to imagine what the game must have looked and felt like for Asian women back in the day. If this illustration depicts any ounce of truth, I'd say we've come a very, very long way.
When I started playing, the only Asian women golfers I knew about were Se-Ri Pak and Grace Park. Then, a young phenom named Michelle Wie splashed onto the scene. It was an exciting time to be the inverse of what characterized the typical golfer. Meanwhile, no one in my family played or encouraged me to learn. My friends weren't into it. I didn't belong to a golf club or community. I just wanted to play! Being a young, female minority didn't deter me from getting out on the weekends. Whenever I dared to walk on as "Tran; single; off the waitlist," I was typically grouped with a trio of bemused guys. Most were kind and welcoming. Some took time to defrost their demeanor. Almost all were friendly towards the end. If boredom and curiosity brought me to the game, shamelessness and determination helped me stay. I managed to figure out how to find a sense of belonging in a space that did not seem crafted for me.
Soon after I settled in Southern California, I made golf friends – many of whom I consider lifelong friends. I found a welcoming community – to which I still belong. As a newish staff member with the SCGA, I'm empowered to give back to the game that has endowed me with more experiences than I could have imagined. The environment may not have been ripe for minority women when I began, but I'm encouraged by the current efforts taking place to grow and diversify a game that transcends age, gender, ethnicity, cultures, socioeconomic backgrounds, strength and size.
Today, it's not uncommon to be Asian and female on the golf course. On the LPGA Tour, over 65% percent of the top-200 ranked players are of Asian descent. Despite being overwhelmingly represented on the grandest stage, golf within the local Asian communities is still underserved. Most recently, I was approached by a father of a teenage daughter who plays competitively. He was searching for someone to help mentor her. "Not a lot of Vietnamese we know play high level golf around here." While I felt flattered and humbled by the ask, I couldn't help but wonder: was this serendipity or slim pickings? Is she playing for him or for her? Could I make a difference by sharing the same background? I'm eager to find out by rising to the challenge of this rather interesting skins game.
Golf for Asian women has certainly progressed over the years. As evidenced by this image, we've evolved away from heels and silk dresses. We've gotten a better grip on the game! But there are so many microcosms beneath the surface, making it unreasonable to bundle the needs and desires of Asian female golfers. There's more to explore, more to learn and more to advance. In recognition of Asian American Pacific Islander Heritage Month, let's make it FORE Her and about her!